Subscription-Based Tampon Tribe Expands to Retail Locations
Most days, Jennifer Eden doesn't appreciate working in Santa Monica for the beaches. The palm trees are fine, the famous restaurants an added bonus. Even the relatively perfect weather, 70 degrees with a side of sweet ocean breeze, isn't the real difference-maker.
Most days, rather, Eden appreciates Santa Monica because it's a good place to sell tampons.
The co-founder of Tampon Tribe, an organic and 100% cotton feminine hygiene subscription service, Eden spent much of the company's first year, 2017, focused on the product. Streamlining a system to manufacture and deliver tampons, pads, and liners that are completely free of toxins, dyes, and plastic takes a lot of time.

But after Tampon Tribe raised $119,119 from 189 Wefunder investors in April 2017, Eden had a little more capital to play with, and in early 2018, the Australian entrepreneur decided it was time to explore another vertical by slowly venturing into brick and mortar stores.

It took months of research to find the right brand, the right shelf space to enter. You don't get a second chance to make a good initial impression on a customer, so Eden needed to make sure she wasn't entering a store just to enter it.

Eventually, she realized the perfect fit was right in her backyard. Erewhon Natural Foods, a high-end natural food store with four Southern California locations — including a new store in Santa Monica — became the first brick-and-mortar store to carry Tampon Tribe products. The store's first Santa Monica location is a short drive from the co-working space that houses Tampon Tribe, but just as important was Eden's belief in the food store's growth. When building a brand from the ground up, you want to try and align with rocket ships.
"In the first year of any company or any product, you start on a trajectory you think is the right one," Eden said. "Then along the road, in that first year particularly, you have different ideas come in. We've stayed pretty true to who we are, but we were looking at different ways to grow. Which markets to tackle. You have to know how to play off your strengths."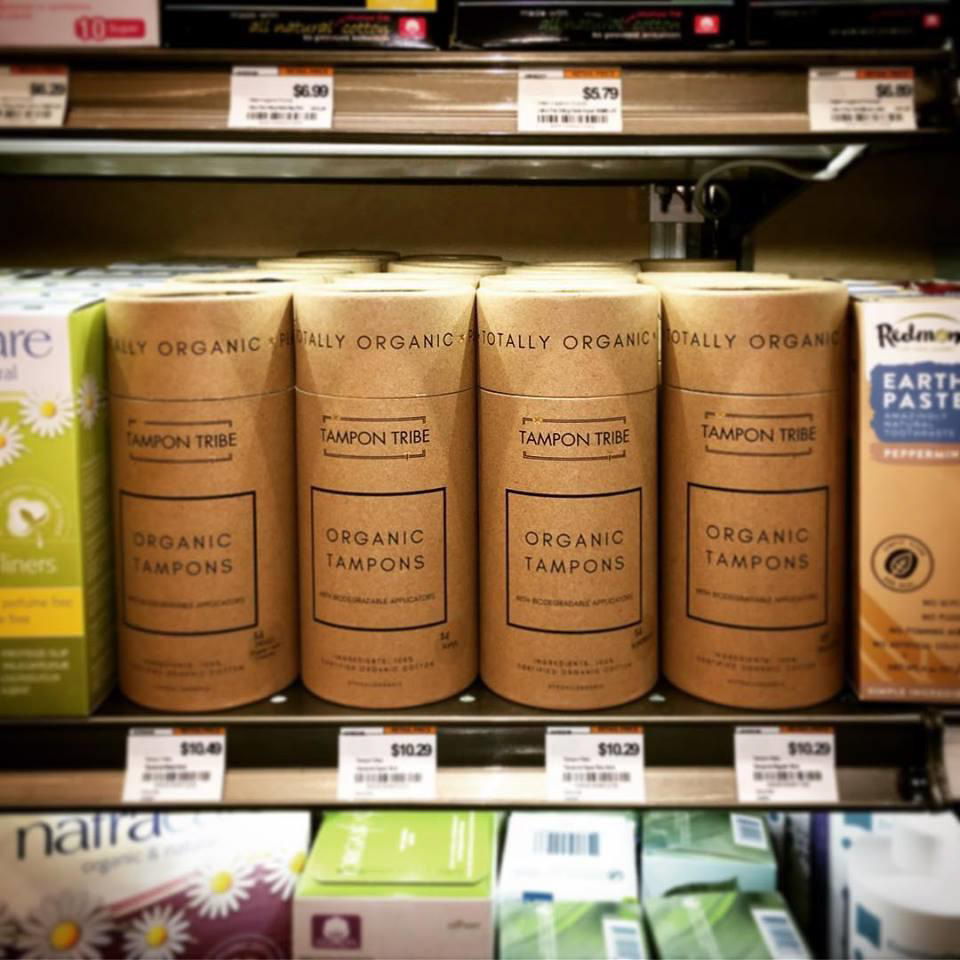 Even without the new Erewhon deal, it's been a good year for Tampon Tribe. The annual recurring revenue from subscription plans is carrying the company, as subscribers are up to 2,000 in Q1 2018, a 100% growth from 2017. Average customer spend is up to $13 a month, a 50% average spend per customer. And the company won a $7k cash prize for winning Georgetown University's Second Annual Alumni Pitch Competition.
For Eden, though, an exciting part about an early-stage startup is the constant tinkering. The search for every and all verticals. Being able to walk around Santa Monica and mentally explore which stores would be a good fit for Tampon Tribe.
In a prior life, her and co-founder Gaby Alves ran restaurants together in Beijing. They had simple, prix-fixe menus that were dictated by the freshest local ingredients available, so the menu changed constantly.
The desire to tinker, to explore every vertical, to push the system in every conceivable direction until the perfect strategy emerges, remains true for both of them.

"Tampon Tribe is all about building an aspirational brand," Eden said. "It's all about getting people to feel a part of something and feel valued. Yes, our products are of the highest quality, but we don't see ourselves as only a feminine hygiene retailer. We're building a brand."