Q1 2019 Investor Update & Special Invite

Dear investors,
I'd like to apologize for the delay since my last update. We've been crushed by an overwhelming workload and have been busy making Wefunder more valuable!
I'd like to take this time to go over everything that's been happening. Plus, invite you to meet us in San Francisco!
Key metrics, Q1 2019
$11,865,774 investment volume (+62% over Q4)
15,492 investments (+84% over Q4)
41% Reg CF market share (+53% over Q4)
$988,814 investments per Wefunder employee (9.6X over closest competitor)

Special Invite to Demo Day
If you live in San Francisco, we'd love if you can come to our XX Demo Day on April 24th at 6pm. We are very proud of the founders. Some already have YC interviews.
The entire Wefunder team will be there, and we'd love to have you come! Please RSVP here. It's held at the Speakeasy - an awesome 1920's style club funded on Wefunder. It'll be more fun than most demo days: potential investments + good company.

Other Accomplishments

New company profiles: 27% better. We released a new design for our company profiles. We now include company financials and other important disclosures for investors. At 99% significance, the new profiles give a 27% lift to investments, a 63% lift to users following a company, and a 19% lift to new user signups.
We now support IRA investments. We integrated with AltoIRA so investors can invest in startups via their IRA. We are rolling this out platform wide this week.
New Idea Program. We released an Ideas program to help pre-seed founders raise money much easier from their friends and family. We incorporate them, get them legally set up, and allow their friends to invest. Here's one example of a founder. Over the last few weeks, 441 people have committed $814,000 to their friends.
XX pre-YC Accelerator: 4 in YC. We formed the XX as a pre-YC accelerator. So far, we've helped 14 immigrant and female founder startups get off the ground. 4 startups invested via the fund have since been accepted to Y Combinator.
Closed over $2M at a $40M valuation cap. In Q1, we closed over $2M in funding (raised over the course of 2018) at a $40M valuation cap. We will open a new round at a $50M valuation so that our most passionate users can continue to invest. (Our competitors have raised at valuations > $90M, but we think they are overpriced.)
More founder stories. We've long neglected social media and content. We're starting to fix this. Check out our @founders instagram account.

Charts & Stats
We've updated our Wefunder Profile with our most recent charts, stats, unit economics, monthly expenses, and more. Here are some of the charts: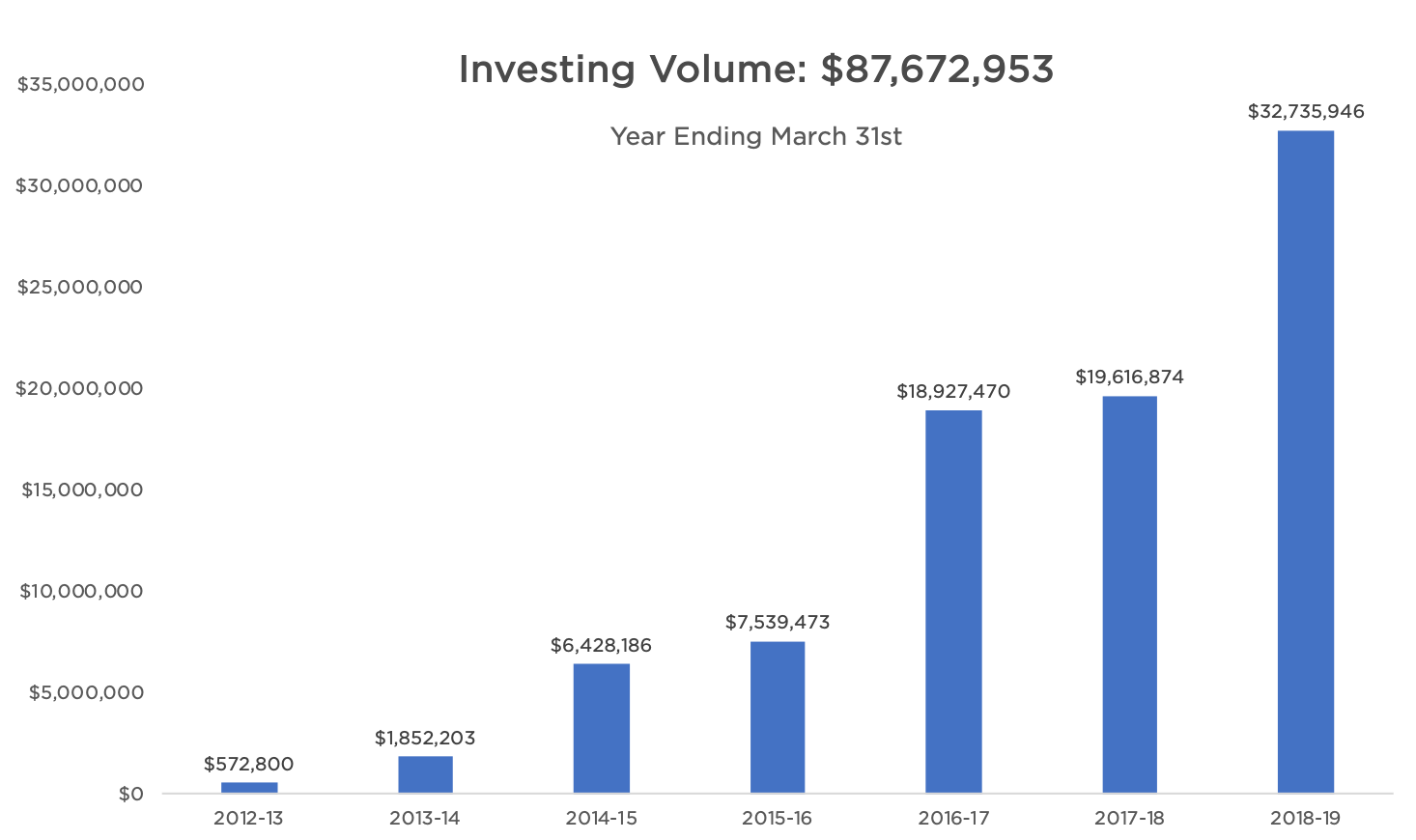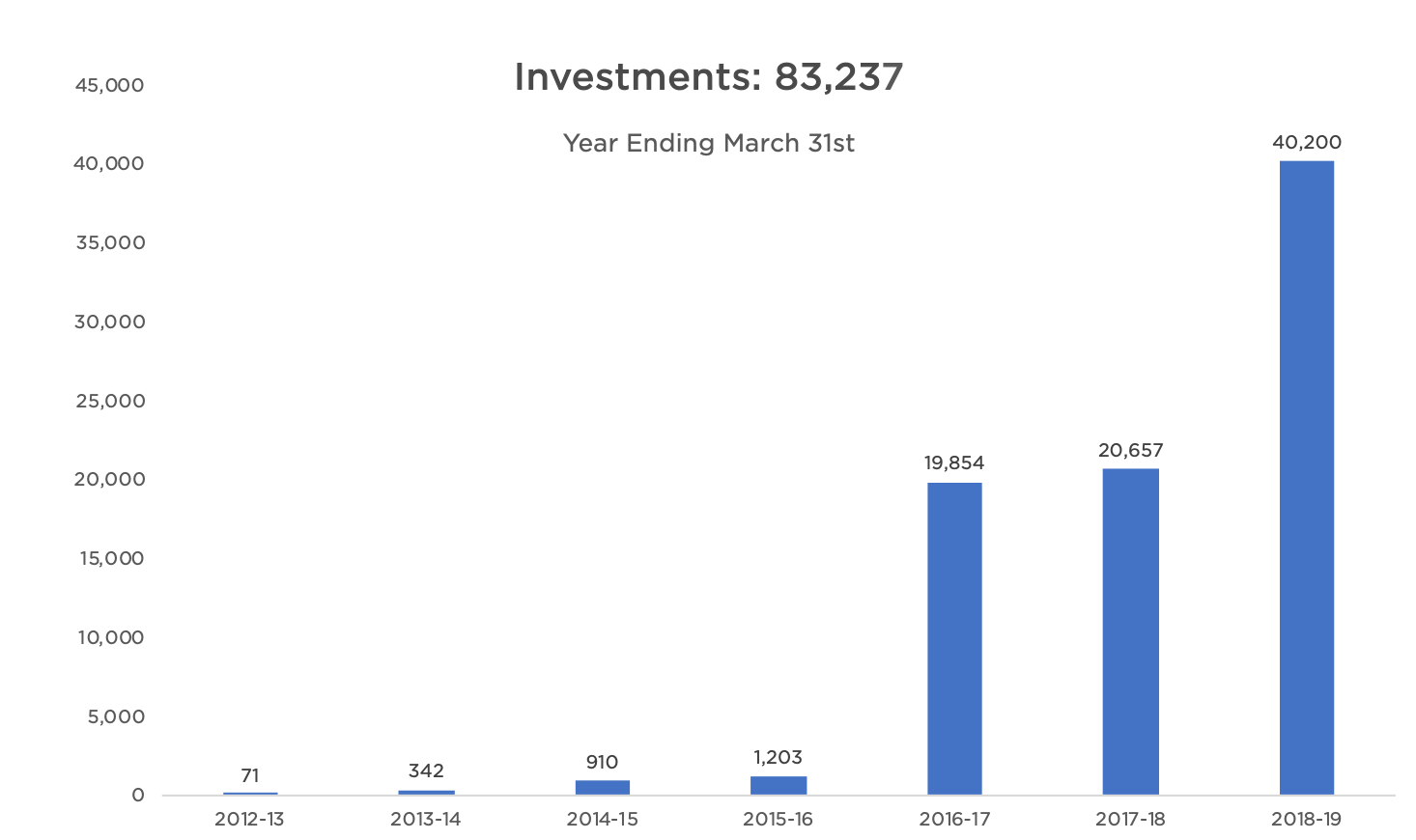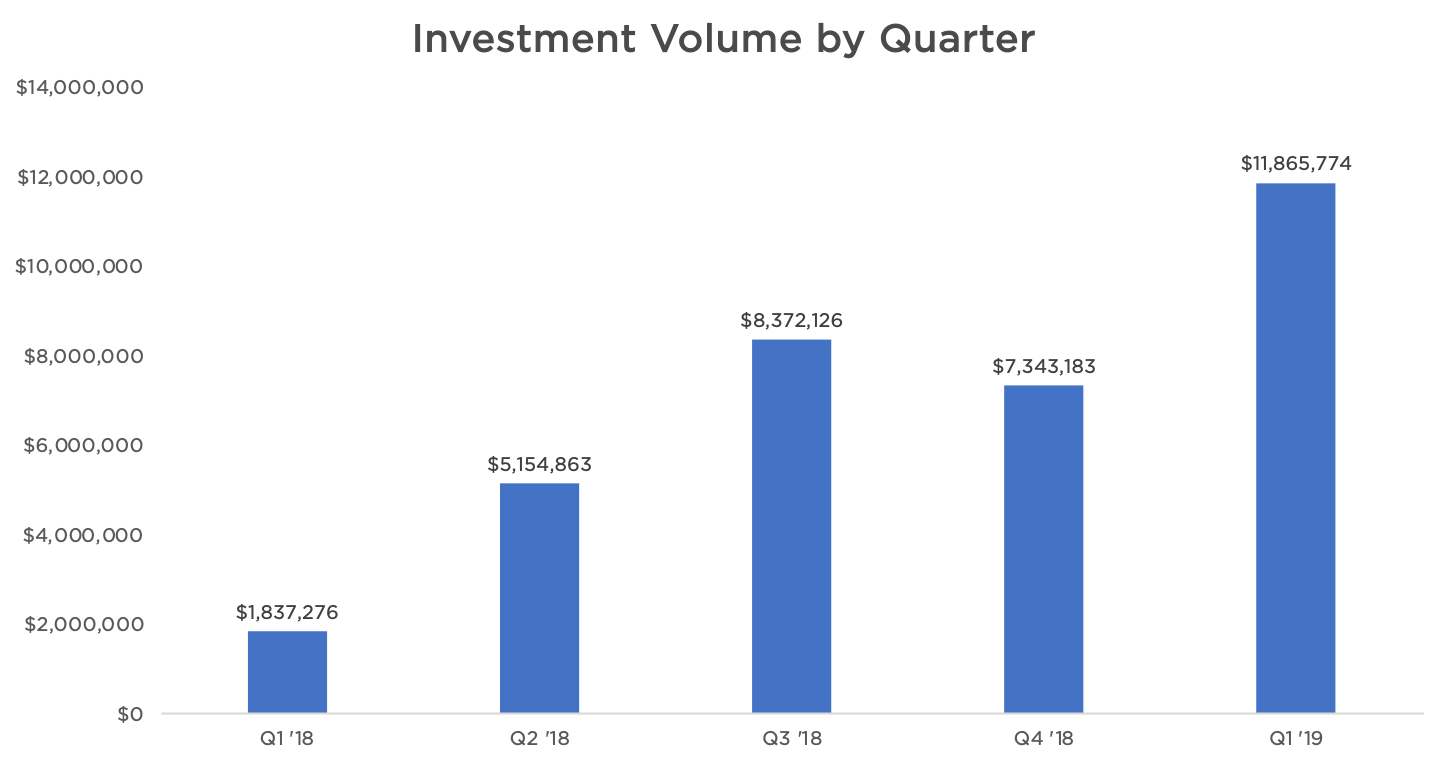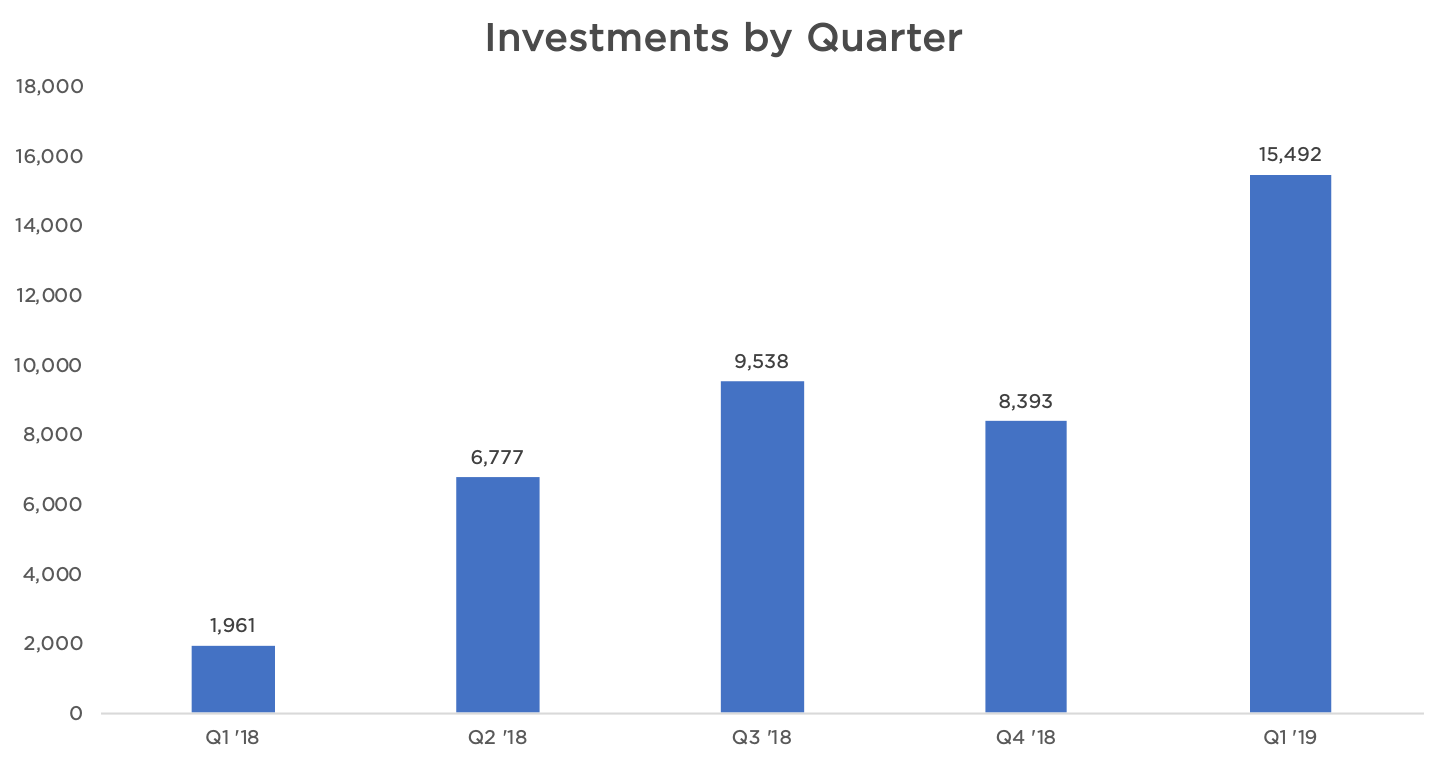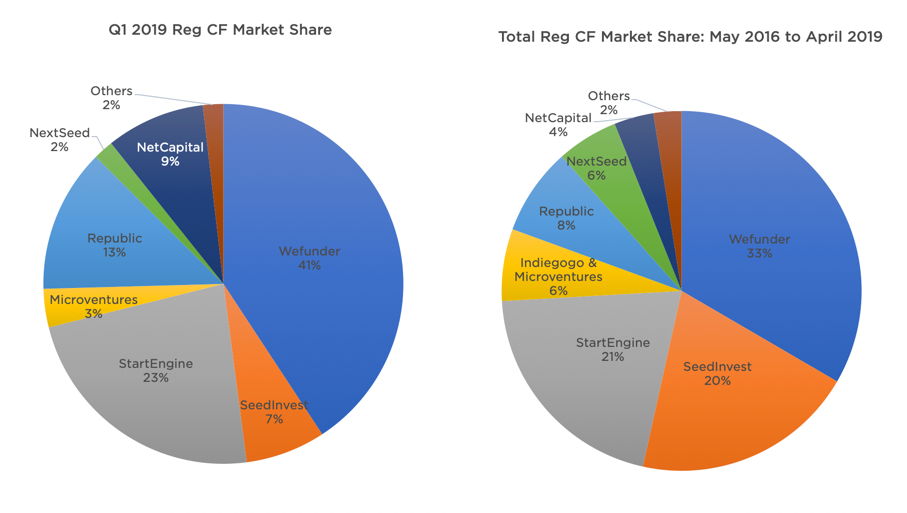 Profitability

We now charge 9% of our investing volume. Our expenses are generally under $225,000 per month. If we continue to exceed $2.5M or more in Regulation Crowdfunding investing volume, we will be profitable.
Our strategy is to grow while remaining close to profitability. We expect monthly losses while we invest in the future (i.e., hiring engineers), but want to be able to swing back to profitability quickly if needed.
Growth Prospects
Let's put it bluntly. We are growing, but not fast enough. We are the dominant player in the industry, but the industry is still too small.
Regulation Crowdfunding requires regulatory reform before we can be the massive company we all expect. Thankfully, we have conviction that those reforms are coming. The SEC is expected to issue Regulation Crowdfunding reforms in the "near-term". Further, the House of Representatives also passed the Fix Crowdfunding Act as part of Jobs Act 3.0 404-4 in August 2018. It has since been taken up in the Senate Banking Committee in February of 2019.
However, we don't plan just to sit around and wait for the government to act. We have some ideas to increase our growth rate without regulatory reform. Broadly, these ideas are focused around helping the earliest of early founders raise money from their friends and family, and giving them the community and help they need to succeed.
Hopefully, we can talk more about the success of those experiments in our next update!

Downsides to Address in Q2
While we've been growing and have had a massive increase in the number of unique investments, there are problems we are addressing. Primarily, the experience we are giving our investors does not meet our standards.
Despite the best efforts of our ops team, we are failing our expectations. We simply don't have the proper operations tools and automations for our ops team to do their job effectively at the scale we are now operating out. We are currently recruiting engineers so we can build these tools.
Related, while we've developed a new "investor returns" page that shows the IRR of all investments that each investor makes, we havn't had the resources to collect all the data, review it for accuracy, and roll it out. I find this personally embarrassing that we have not yet done this.

Ideas? Thoughts? Questions?
Please comment below. I'll be happy to answer any questions you might have.