Proofing "Green Goose Whisky," our amontillado sherry barrel-finished Galloping Goose Whisky
Our Galloping Goose whisky, with its many gold, double-gold and other awards has two new release styles this year, each of which is also 88-proof:
"Blue Goose," with its blue label
, is barrel-aged for 12-months in barrels which held bourbon for 4 years, and cognac for 7 years, and
"Green Goose," with its green label, is barrel-aged for 12-months in 40-year old Spanish amontillado sherry barrels. This photo below is from the start of our proofing down to an 88-proof bottle strength from barrel-strength. What you see is our barrel-strength Green Goose just after it came from our 500-liter sherry barrel. We love the color!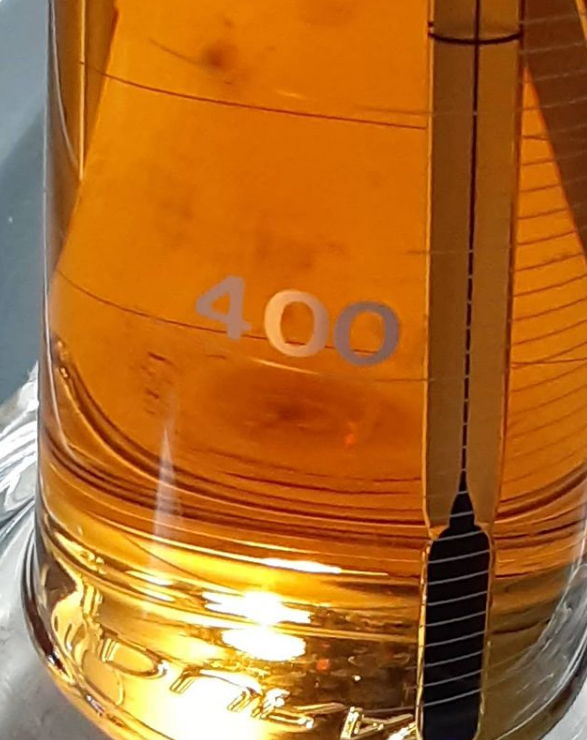 How do we calculate the proof after the whisky's been in a barrel for 12 months?

a. Knowing the barrel-entry strength,
we estimate the likely range of the current proof
with our guess as to angel's share loss.
b. We then select the correct hydrometer to use for proofing so
we can measure the actual spirit density at its current temperature
. Proof is based on density, and each hydrometer is calibrated for accuracy.
c.
We also use specialized calibrated thermometers to measure temperature
of the spirit to within 0.1 degree.
d. Knowing both the current temperature of the spirit and the measured proof,
we then calculate what is known as the actual proof - "as if it were 60 degrees Fahrenheit," where all proofs are said to be
.
Green Goose will be on sale at distillery soon, watch our social media for an update!