You Need to Pick a Vertical!
Whenever I used to speak to a VC or angel about Toffee, they would almost always give me this specific feedback: "Yousef, you need pick a vertical for Toffee, going horizontal is just way too hard!"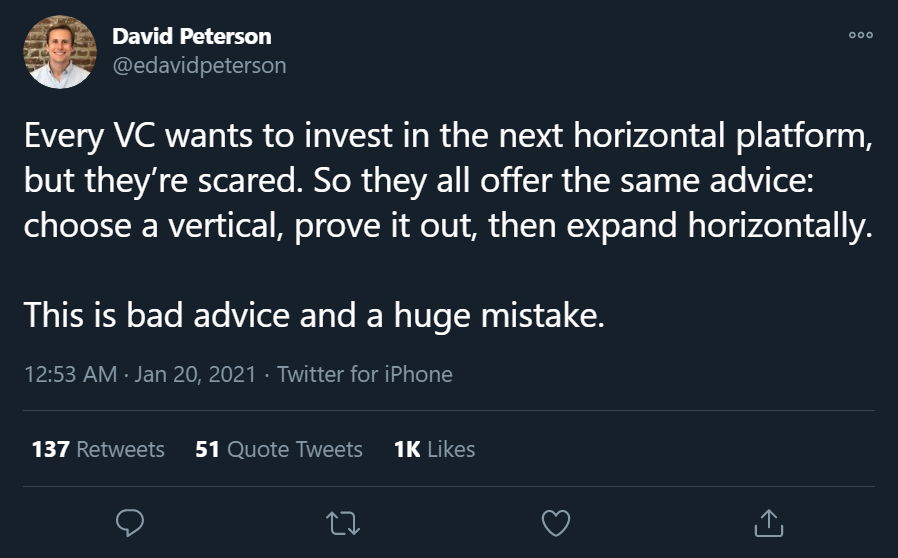 I just came across this tweet by David Peterson, who leads Partnerships at Airtable and worked at Google as well as Founder Collective (a prominent early-stage VC fund). Do give it a read as it's a very insightful take on why going vertical first is a terrible mistake, and one which quite a few founders regret.
If you're not familiar with the term horizontal/vertical: a horizontal market has customers who use your product for a wide variety of use-cases, while a vertical market only has customers who use your product for one specific use-case. A good example of a horizontal product is eBay: you can buy anything ranging from a DVD player, to a car, to even a house. A vertical product would be a marketplace for e.g. vintage vinyl records.
VC's and angels alike used to give me this feedback after I shared Toffee. Sure, it might be easier to initially grow a vertical product as opposed to a horizontal one, but the major downside is that there's only so many people interested in vintage vinyl records. There's limited room for growth, you're probably competing against a dozen products operating in the exact same vertical, have no network effects, and you're going to have difficulties acquiring and retaining customers.
By comparison, eBay continues to grow at a great pace, has very few actual competitors, has continued to retain its network effects, and has no issues acquiring and retaining customers.
My plan for Toffee is bold. The marketplace is horizontal for a reason: I want for Toffee to actually become the eBay for digital goods, not just another marketplace focused on a tiny digital vertical. Will you join me?