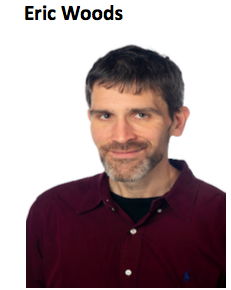 Eric Woods enjoys applying engineering principles to solve analytical problems and developing technical solutions in a variety of areas. He currently works as a research engineer at the Materials Characterization Facility at Georgia Tech and mentors undergraduate and graduate students. His research focuses on electron microscopy and surface characterization of materials, including photonic and
plasmonic structures.

He founded Eric Woods Consulting, LLC., and provides analytical services to materials manufacturers. He is a scientific adviser to Quorum Diagnostics. 
Previously, he worked for several years as a microfabrication engineer at Georgia Tech's Institute for Electronics and Nanotechnology core clean-room facilities working on full semiconductor and sensor process development. Notable projects included co-developing an innovative shunt with biomedical engineering students, developing high-aspect ratio silicon etch processes, MEMS sensor design, and metallization optimization. He also served as a patent examiner in computer graphics hardware for several years. 
He earned all degrees from Georgia Tech: a B.S.E.E., a MSc in Biology with a biochemistry focus, and a MSc in Materials Science and Engineering with a focus on surface characterization.