News from the Intersection of Craft & Science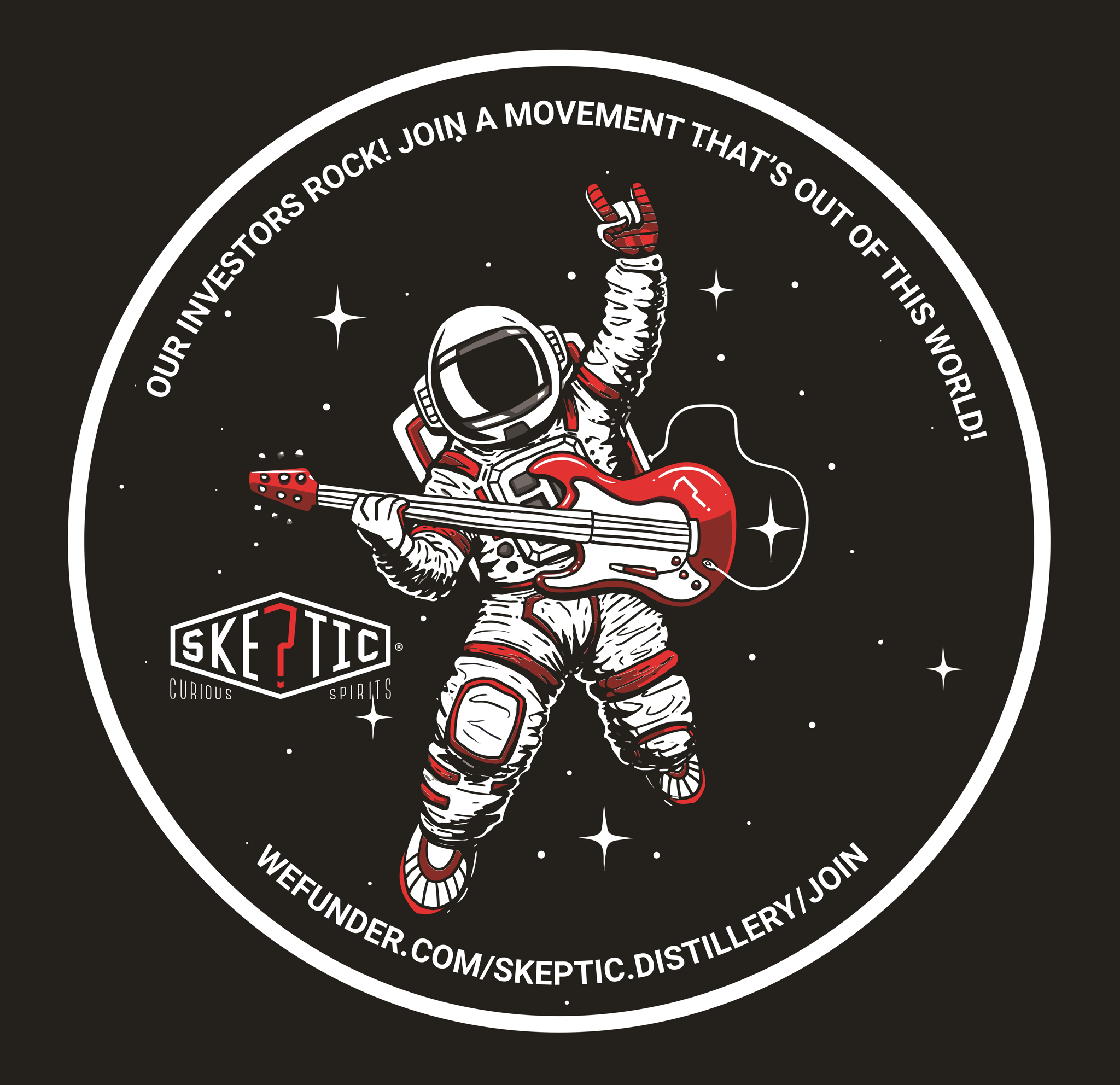 Hello Everyone! I apologize for going quiet for a couple of weeks. As a very small team (of just 3 people!), we've been quietly working extremely hard to keep our momentum going. As of right now, there's only $12,455.00 left of early bird terms investment left available, at 225% return on initial investment, so tell your friends and family to get on the ball!
Here's a few of the highlights so far:

Sales Numbers: Through the first two months of 2020, we have already sold more cases than all of 2019. Sales have eclipsed $50,000.00 in these 2 months and we're just getting started. James has been launching Skeptic in Kansas and Oklahoma, while also maintaining momentum in Arkansas with tastings scheduled, and will be in Missouri next week for our launch. The week after that, he is going up to Alaska to visit our very first customers and do sales trainings and tastings in Anchorage and Fairbanks. We don't think too many craft distilleries would go out of their way to do stuff like that, and we can tell it's appreciated and helps build brand loyalty. After that, he'll be back in Missouri before coming back to Illinois to launch with our new distributor! See next paragraph for more on that....
Distribution: You already know we opened up four new states between late last year and this year (Arkansas, Oklahoma, Kansas and Missouri), but what you didn't know is that we've been working behind the scenes to dramatically improve our distribution channels in our home state of Illinois. We just signed a new distribution agreement in Illinois that will lead to total case sales in our home market this year of 850+ cases (versus around 300 with our previous distributor). This news is fresh, and switching distributors is a delicate process, so we'll hold off on a more formal announcement until another week or so, after all the paperwork and such is finished. We're also looking to add one more state this year, and we'll soon be available in Ontario, Canada as well.
Business Collaborations: As an amateur musician and otherwise huge music fan, I'm getting more and more excited about a budding partnership with a long time favorite band of mine from California. I won't be able to formally announce anything on this for some time, but it's slowly moving forward! We're also close to signing an agreement to both supply spirits for and bottle some phenomenal ready-to-drink cocktails from a company you will know much more about it in the near future. They make phenomenal cocktails and we're really pumped about this partnership, which will provide additional outlets for our spirits and some additional revenue to help offset some operating costs.
Events: Brittany has been hard at work coordinating the ever growing list of events and marketing projects we've been taking on. Everything from in-store displays and posters to doing raffle baskets for charity and running Instagram/Facebook contests. If you don't follow us on either of these platforms yet, please do! We post literally everything we do there. Well, everything we can remember to post anyway! There's a lot..
New Locations: If you've ever heard of Rick Bayless, the celebrity chef behind Frontera Grill, Topalobompo and the Frontera foods brand, then you'll be excited to hear that our gin is going on the cocktail menu of Bar Sótano, a bar concept developed by Rick and his daughter Lanie that sits directly beneath Frontera Grill. We also FINALLY got activated in the Whole Foods ordering system, and Skeptic Gin and Vodka will be available this week at the Whole Foods in Elmhurst, IL with more to follow!
GinQuila Reposado: The labels are on order, shipping literally tomorrow, for our first limited release, GinQuila! GinQuila is a gin (very loosely) with Mexican spices and flavors inspired by the cantarito cocktail, a traditional tequila and grapefruit soda drink served in claypots. It's like a paloma, but bulk size and with more fruits added. This was then aged in Cazadores tequila barrels for about 6 months. We're bottling it this month and it will be available in April. I'm particularly excited about the really cool labels we developed for it. If you're wondering, "What the heck do I do with GinQuila?," then fear not, as we will be providing hang tags on the bottles with simple cocktails to make with it, like the Skeptic Paloma!
Main Gin and Vodka Still: I've been busy making some major improvements to the main still to make it more robust and easier to run. It's been a bunch of fabrication and working on my welding "skills," but I'll be finished with this tomorrow, just in time to start running new batches of vodka and gin because we're ALMOST OUT OF STOCK! That's a good thing.
Craft Beer Whiskey Still: I've made several modifications to the final still design that I will test out next week. This will allow me to finalize the design of the base components that will need to be fabricated, and I will be placing the order for those within a week or so. I'm SUPER EXCITED to finally get this going and bring these full scale production craft beer whiskeys to you guys! Currently, it's looking like we'll be able to begin production on these around July/August.
Skeptic Tasting Room: We haven't yet raised enough capital to consider doing the tasting room, however we will probably begin some light demolition and remodeling in our free time (HA! free time...) in order to prep the space and make it a little less 1960s wood paneling/different shades of brown vibe, and more "Skeptic" vibe.
I know that's a lot of stuff, but it actually doesn't even scratch the surface! I apologize for the lack of images in this update. I'll be following up next week with a new update and I'll add a little more color and imagery to that one. Hope you like the space rocker. If you like that image, and you're an investor, please comment on this post and let us know if you'd like to see us do a Skeptic t-shirt for the swag bag with this one.