The Quick Version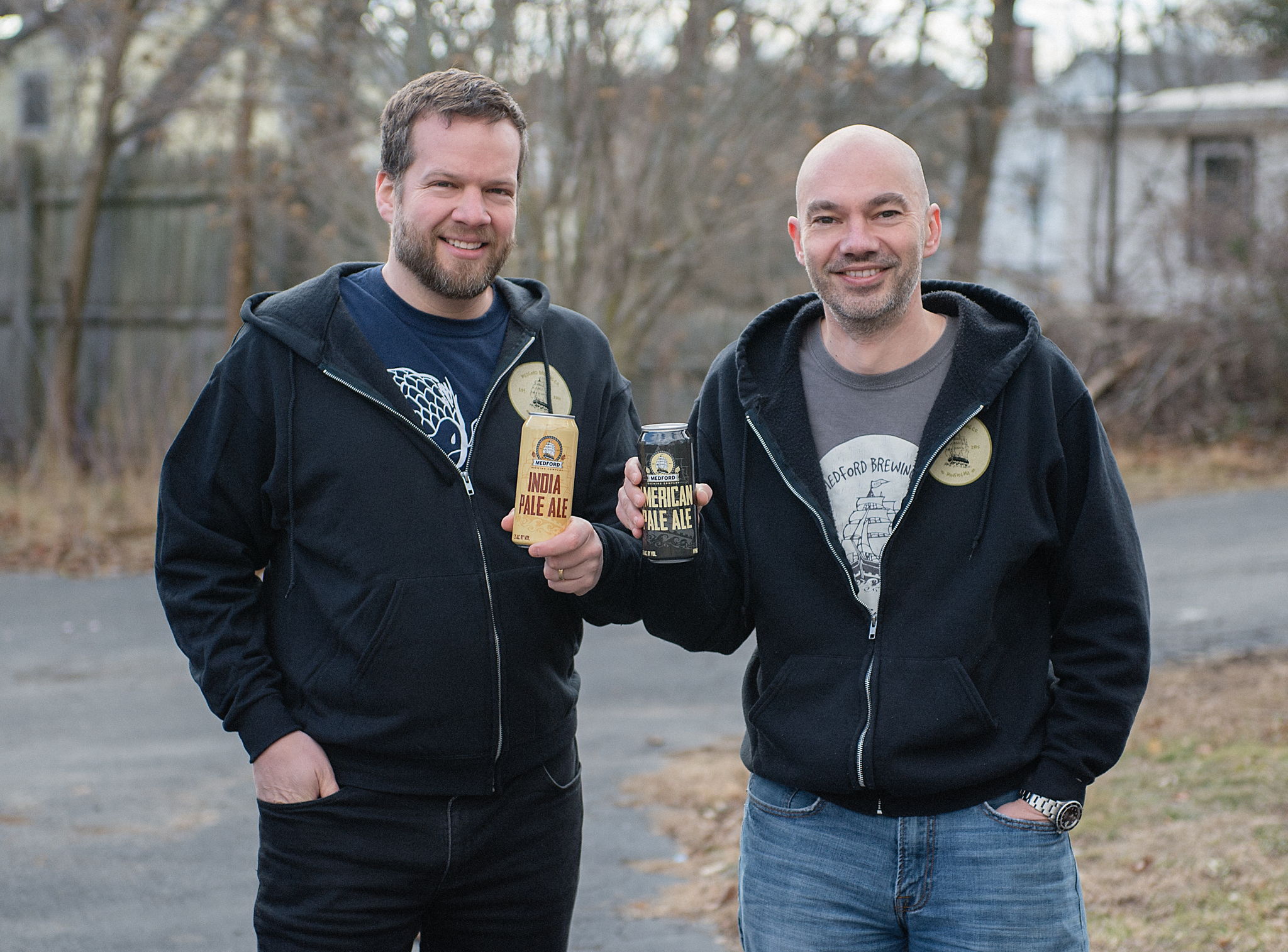 Two Medford residents. An English teacher with a passion for brewing, and an English born businessman with a passion for beer. They met at one of Max's parties where his homebrew was on tap, and started talking about why there wasn't a brewery in Medford. Max had been brewing for years, become a beer judge, and run the Boston Homebrew Competition; Nick's experience was in sales and publishing, and had run a pub in England.
In 2016, Medford Brewing Company incorporated, and started selling beer in 2017. Beginning with an American Pale Ale, they soon added an IPA, an American Golden Ale, and a DIPA to their catalog. In late 2018, Medford Brewing Company joined the roster of Atlantic Distribution, and is now ready to build its brewery and taproom in Medford, a great place to brew and drink tasty beer.
The Whole Story - by Max
Now that Medford Brewing Company has been selling beers across MA for over two years, has four different beer styles sold in over 150 locations, and is looking to create a brick and mortar brewery in the city where we live, it's fun to think how it all began.


In 2008, I was introduced to the world of brewing when a fellow teacher asked if I wanted to help him with a batch. "Is that even legal?" I asked. Of course, it was, and that day, we made a clone of Stone Arrogant Bastard, one of my all-time favorite hoppy beers. As soon as we mashed in, I was hooked. I started brewing weekly, and moved quickly from brewing extract beers to all-grain batches so I could control every aspect of the brews.

As a teacher, I hit the library and read every book I could on brewing - learning the history of every beer style, and poring over every beer recipe book I found. I built a mini-brewery in the basement, and very soon, brewing went from a hobby to a craft that occupied most of my waking thoughts. I worked on my recipes constantly, brewing for holiday parties, weddings, and birthdays. After that, I joined the Boston Wort Processors, and entered competitions for feedback. I studied with and learned from knowledgeable peers.

Over 150 batches later, I had brewed 55 of the 80 recognized styles, won many medals, and became a BJCP certified beer judge. This became my brewing ethos: to have each beer be unique to itself - to have its own identity and signature flavors and aromas, but also belong to a recognizable tradition.
I loved the creativity of brewing, but we had more beer than we could drink. My wife, Wendy encouraged me to share my beers with friends and neighbors. Soon, they became the centerpiece of parties and get-togethers. When our kids went to school, we threw parties to meet other parents, and that was when Nick and I met. He came to the parties with Jen, his wife, and one Halloween party, after a few pints of my pumpkin beer, he shared with me that his dream had always been to run his own pub (he worked in a pub in England). We started to talk about the possibility of starting a company that could create a larger sense of community. What started in the basement and the driveway was starting to outgrow the hobby stage. People liked the beer, so the kettle had to get bigger.
After Nick got all the permits and legal paperwork filed, we brewed our first beer at Great North Ale Works in Manchester NH under the guidance of Rob North, a gentleman and beer guru. We learned what it takes to scale a recipe from 10 gallons to 40 barrels, and fine-tuned our beers, revising recipes until they met our standards. Seeing the way Lisa and Rob ran their establishment was inspiring, and helped us understand the nuts and bolts of a brewery.
Our first batch of beer brewed at Great North Aleworks sold out in four days. We were thrilled, and Medford was so excited about the beer, people bought cases off the pallets as they were being loaded into the stores. Since then, we've brewed at Dorchester Brewery and at Down the Road Brewery in Everett, where we make the beers now. Along the way, we've learned how to make a consistently excellent product on different brewing systems. With the beers now where we want them, it's been amazing to share them with the public. Because I've taught in Medford since 1998, I'm always meeting up with students (some of whom are now in their 30s with families. It's great to catch up with them and to share the beer, and also to be able to donate beer to local charity events. From Fells Day, to the Lakota Stay Project, from PTO and Library Trivia Nights, to founding the poetry reading series Poetry on Hops, at the Medford Historical Society, Medford Brewing Company has been about the city, and giving back to it since day one.
We started adding locations and products. We also started seeing savings costs in our packaging so we redesigned our labels. Our photographs are taken by Jen, who is a professional photographer. The ship on the front is The President, an Medford ship whose image we found at City Hall. The text on the back notes what Medford is known for, "From the Mystic River to the Fells / From Paul Revere to Jingle Bells, Medford was already a town with great character. All we were missing was a great beer."
In October of 2018, we made the brave decision to switch distributors from a small family-run group to one of the largest in New England, Atlantic Beverage Distributors. As part of this, we intentionally ran our supplies down to zero then restarted. In the last 12 weeks Atlantic has gotten us in to over 135 locations and more are being added every week. With the new push, Max has been doing tastings all around MA, from Clinton to Westford, from Framingham to Melrose. Meeting people from all around the state, and seeing their enthusiasm for our beers, has renewed our sense of purpose and made us very excited for the future. We want to make excellent, approachable beers that are great examples of traditional styles, and to do it in a brick and mortar location that can be a gathering place for the extended community. The positive response we've received from our city makes us sure that a tap-room run will be successful.