ELEVATOR PITCH
The Problem
B cell lymphoma kills at least 300,000 of our canine family members every year, and the standard of care is a decades old, non-curative chemotherapeutic that only provides 10 months of life to our furry family members. Even still, pet owners spent $7,000 (in the midwest) to $12,000 (on the coasts) on this standard of care. This is unacceptable.
The Solution
LEAH (LifEngine Animal Health) Labs is developing chimeric antigen receptor (CAR) T cell therapy to fight canine cancer. CAR T cell therapy is the hottest area of cancer research today, and it has been shown to cure certain types of human blood cancers. Our furry friends get one of the same types of cancer that can be cured in humans with CAR T cell therapy, called B cell lymphoma.

The Innovation
Using precision gene editing, we are able to engineer CAR T cells for a fraction of the cost of current CAR T cell manufacturing protocols. We use CRISPR, the gene editing reagent that has taken the world by storm. Our patent-pending technology allows us to insert DNA encoding CAR proteins into cellular genomes, reprogramming those cells to become cancer fighting machines.
The Market
Right now, at least $500,000,000 is spent on a $10,000 non-curative chemotherapy for dogs with just one type of cancer, B cell lymphoma.

Our therapy brings many value propositions: it can be curative, it will only take 3 trips to the vet (as opposed to 16 for the current standard), and it will be more affordable.

We will disrupt the current standard of care market with a price point of $5,000. With at least 300,000 dogs dying of B cell lymphoma every year, the total addressable market at that price point is at least $1.5B.

What's the story? How did you get started?
WHAT IS A CAR T CELL?
Chimeric Antigen Receptor T cell therapy is the result of decades of research and development. Think "chimera" of Greek mythology, CARs are the fusions of multiple different proteins on the surface of a T cell that can find, bind, and tell the T cell to kill.
The first part of CAR T cell therapy is the T cell itself. T cells are immune cells that fight off foreign invaders, but are normally not able to efficiently kill cancer.
The next part of CAR T cell therapy is the Chimeric Antigen Receptor. The antigen receptor is a piece of an antibody, a protein that can bind to different shapes found on cells or molecules in the body, engineered to bind specific proteins found only on cancer cells. In this way, we can "teach" T cells to find and bind to cancer.
The final part of CAR T cell therapy is what the antigen receptor is fused to: the T cell receptor. This is a natural part of a T cell that is able to turn on the killing response. When CAR T cells find cancer and bind to them, the T cell is told to kill.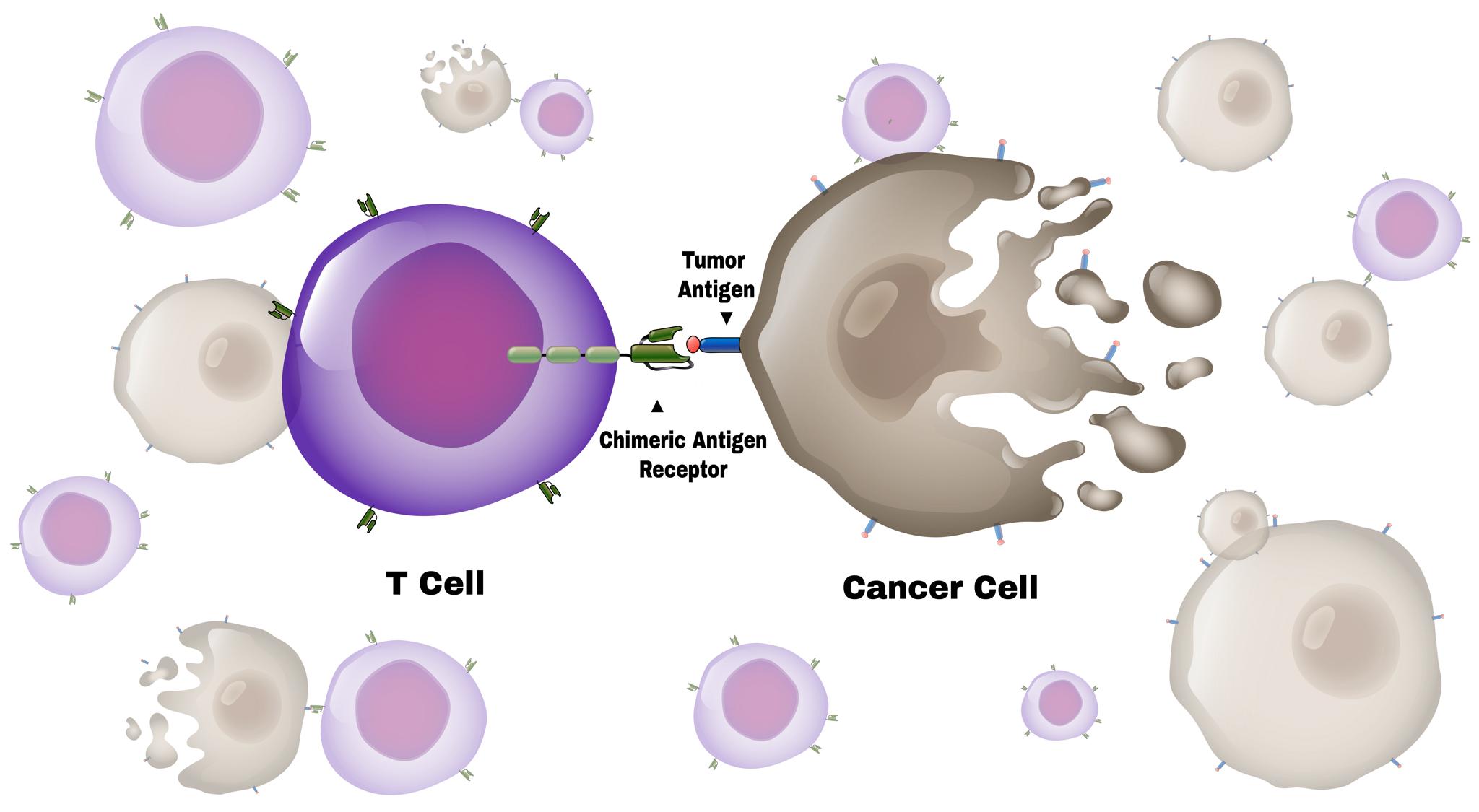 WHAT IS GENE EDITING?
Imagine writing a whole essay, but finding a typo in the middle or want to add a new paragraph. Using your computer mouse, you click where you need to change, and use the keyboard to add in the new material or fix the typo.

Advances in biotechnology have given scientists the ability to control DNA just like we control our writing on computers. Gene editing is the process of using biotechnology to alter DNA specifically, allowing the conceptual programming of the code of life like an essay document.
Scientists at LEAH Labs use CRISPR technology as a tool (the computer mouse) that can target specific genes (words and paragraphs) to change or add in DNA, giving cells the ability to do things that they previously couldn't.
LEAH Labs uses gene editing to give immune cells the ability to recognize and eliminate cancer cells, something that they do not do effectively without genetic reprogramming.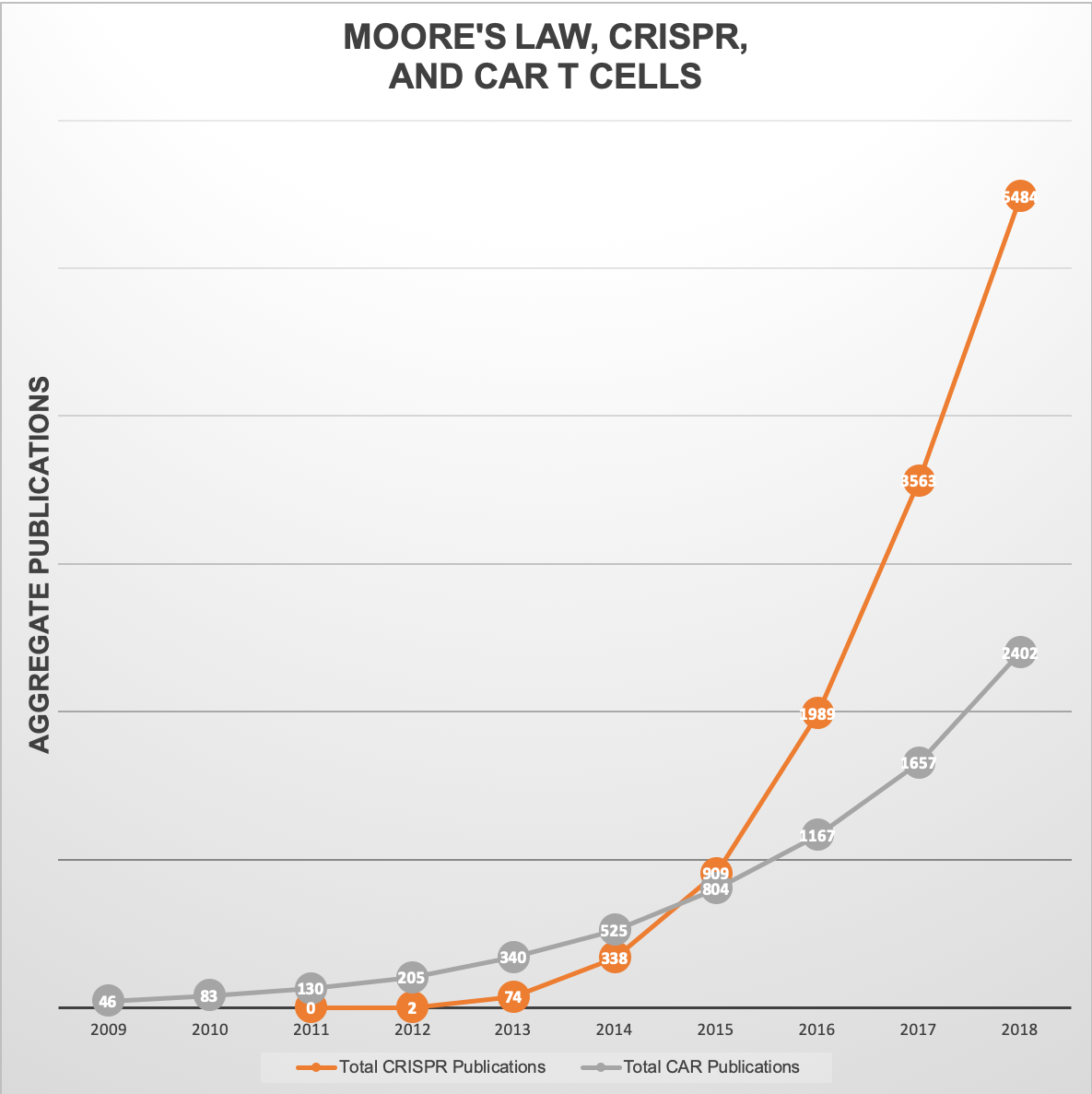 CRISPR and CAR T are exploding fields of study and application right now. CRISPR has already hit the exponential growth phase, and we can see that CAR T cells are not far behind.
WHAT IS YOUR PATH TO MARKET?
Human cell therapies fall under the FDA path of approval, a long and arduous process that can take >5 years cost >$500,000,000 in development costs.


LEAH Labs therapeutics for canines fall under the United States Department of Agriculture - Center for Veterinary Biologics (USDA-CVB) path, which allows us to get to market in 3 years with only $5,000,000 in development costs.