The Problem and Why CaryRx is Needed
If you've been to your local brick and mortar pharmacy recently, you're likely all too familiar with the mess of retail pharmacy. Whether it's long lines (45 minute waits are the average), persistent out of stocks, poor communication, or lack of personalized care, the traditional retail pharmacy is a broken system.
While working as a pharmacist, CaryRx's founder, Areo Nazari, experienced firsthand how prescription delivery was taking place in the industry. It was a very manual process with a patient experience not fit for this century. As an example, credit cards were manually processed and the pharmacy team was required to manually call drivers when needed. There was no ability to schedule deliveries for specific time slots and on demand delivery was not an option. The patient experience was extremely lacking as the entire process was over the phone.

The Solution: A Tech Infused Pharmacy that Delivers Prescriptions On-Demand
CaryRx is a tech enabled pharmacy serving DC (free same day delivery), MD and VA (free two-day shipping). At the businesses core is our mobile app that allows patients to order prescriptions with an "Uber" like experience, including features such as in-app chat with the pharmacy team, easy refill requests and order tracking. With a visual prescription dashboard, patients always know the current status of their prescriptions and can easily request refills when needed.
We built a proprietary platform around on-demand and mobile delivery, which allows us to have a true on-demand experience. Within our current same day delivery radius of DC, we have had prescriptions delivered in as quick as 12 minutes (for free) from the time the electronic prescription was received. There are only a few companies right now in the country who offer a true on-demand mobile experience for prescription delivery.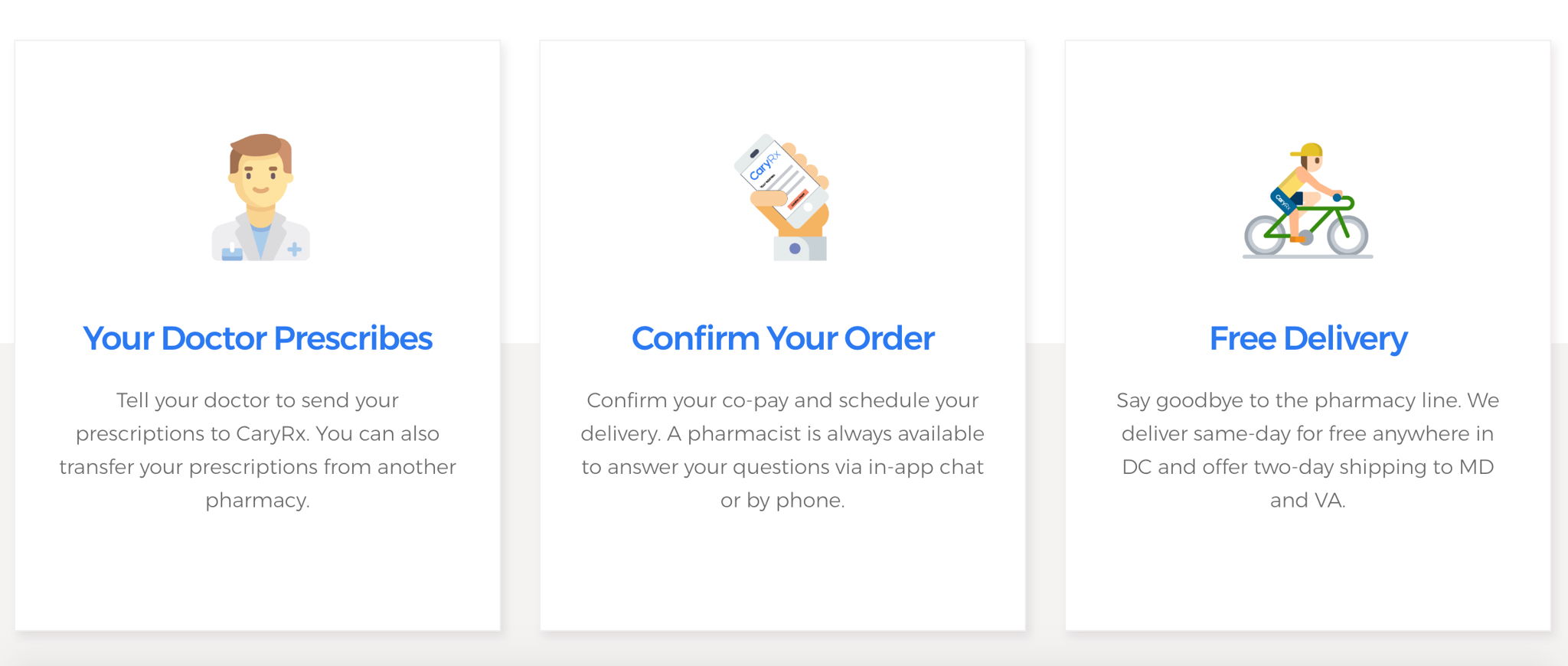 CaryRx vs The Competition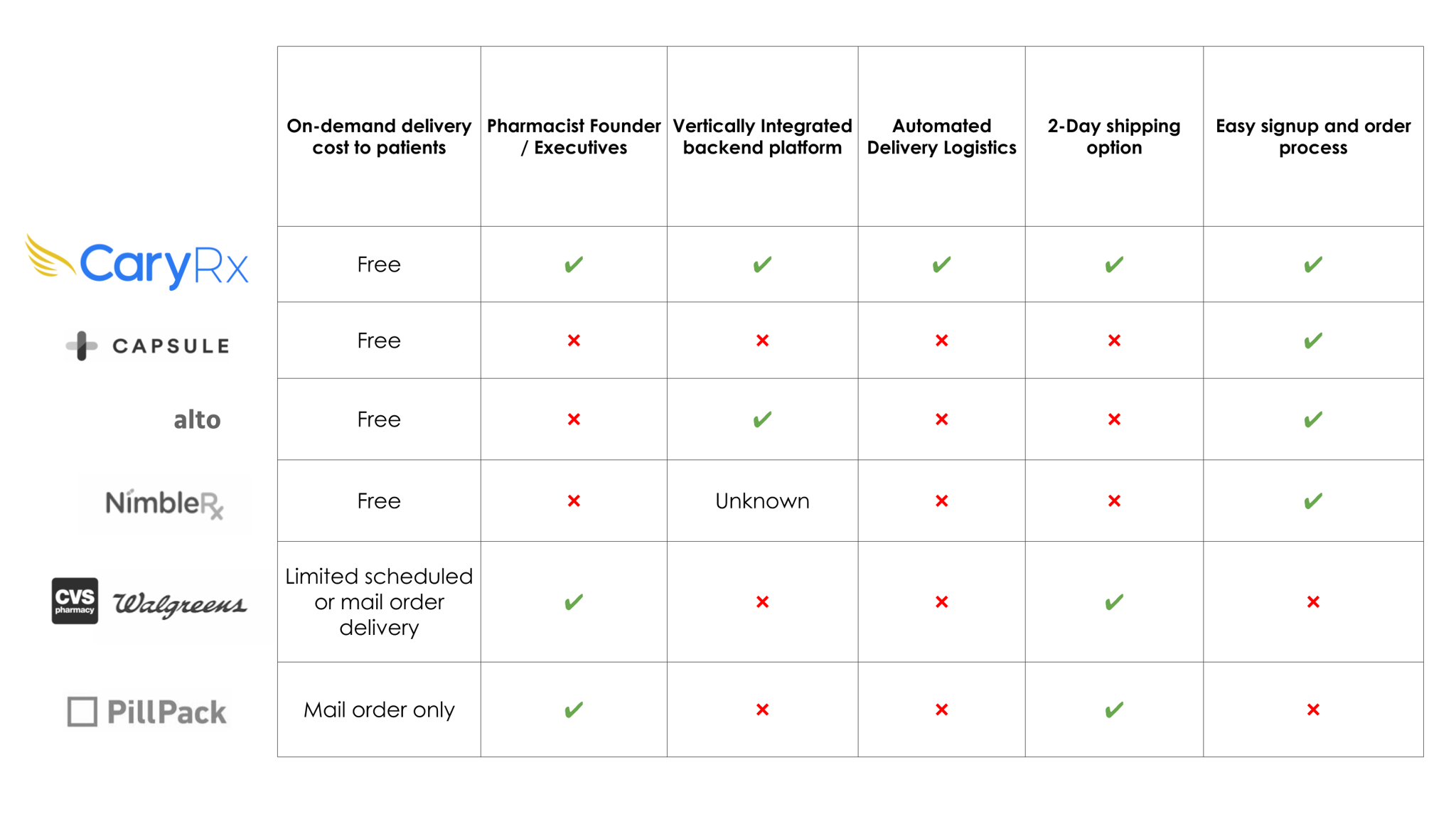 Amazon

Amazon recently acquired PillPack to mark their entrance into the pharmacy industry. We believe they will also look to move towards entering the pharmacy benefit management space to expand on their leverage in the supply chain. We do not expect Amazon to enter the same day prescription delivery space, which is CaryRx's core offering. Brick and mortar pharmacies still dispense the majority of prescriptions nationally. CaryRx is targeting brick and mortar business while Amazon/PillPack are targeting mail order business. In fact, the industry has actually seen a shift in demand away from mail order pharmacies towards brick and mortar locations. A primary reason why we believe offering both same day and 2-day shipping is key. Further, we believe Amazon entering the market space is healthy for an industry that has seen years of consolidated corporations controlling the market.
Competitive Advantage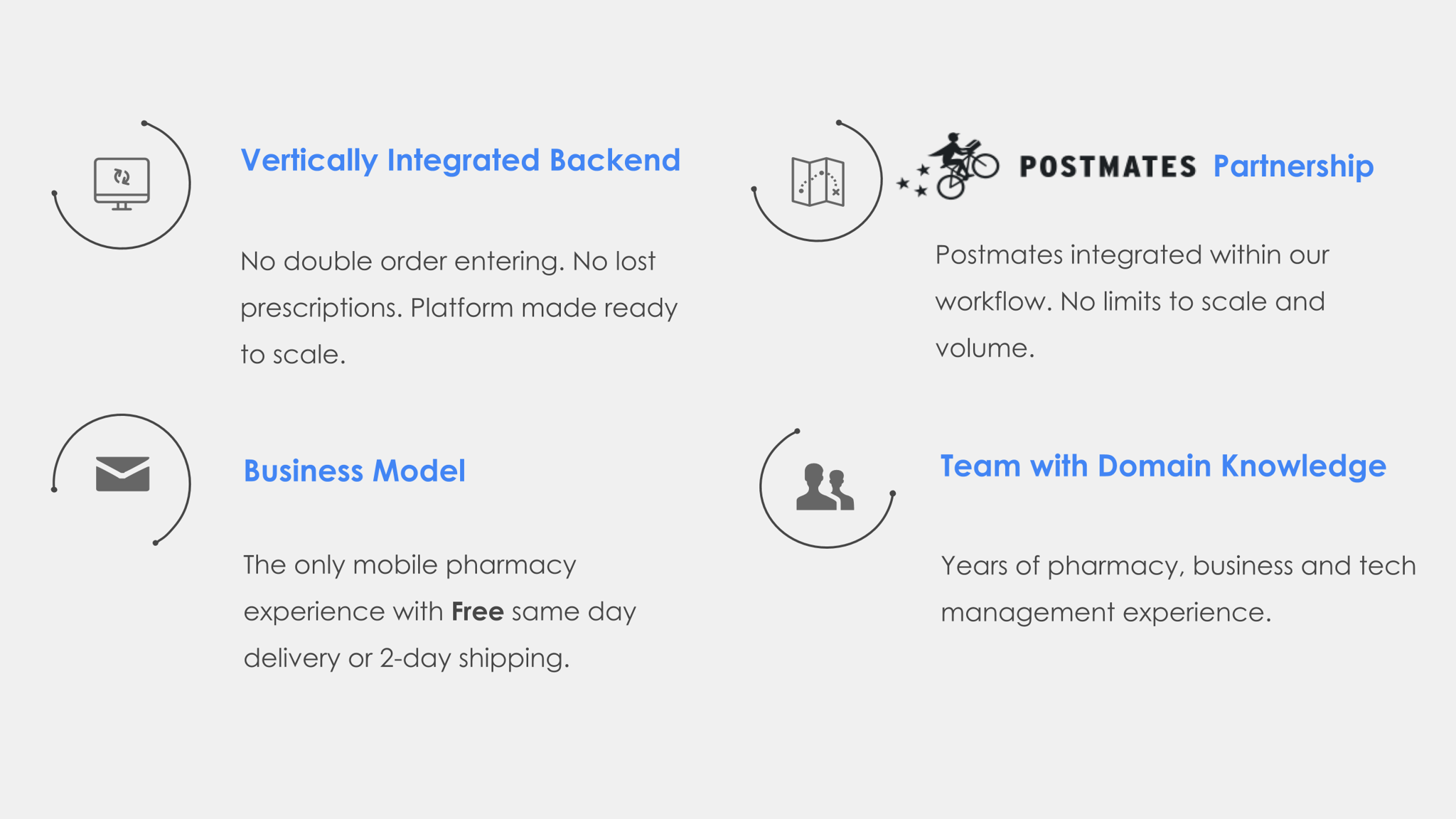 Traction
CaryRx launched in August 2017.
$10
Customer acquisition cost
99%
Customer retention rate
95:5
Prescription transfer in to out ratio
5,000+
Prescriptions filled to date
33%
Our gross margin (vs. 22-23% Industry average)
$30
Our gross profit per prescription (vs. $12 industry standard)
Funding Milestones
We will be using the funds raised from this campaign to expand marketing and operations. Half of the funds will be earmarked for marketing, including: social media, outdoor advertising and sales. The rest of the funds will be utilized for operations, including: staffing, working capital and R&D.

Seed round milestones:
$5M in revenue by end of year 2019
Initiate next funding round in 2019
In the Community
Our Marketing Approach