Introducing Funds, Part 3: Why be Partner?
This is part 3 in a 4 part series introducing Funds.
Part 1: A quick overview!
Part 2: Why invest?
Part 4: What if I am unaccredited?

A fund on Wefunder is a new kind of micro-VC firm, where the partners are makers, technologists, operators, pioneers, & founders on the cutting edge of their fields.
In other words, possibly you.
We want to create a world where anyone with expertise - even those who are very busy with full-time jobs - can be a part-time VC and get paid to help startups succeed.
The world as it currently exists forces a decision - either you are an investor or a founder/maker. It has been nearly impossible to do both well. Can we change that?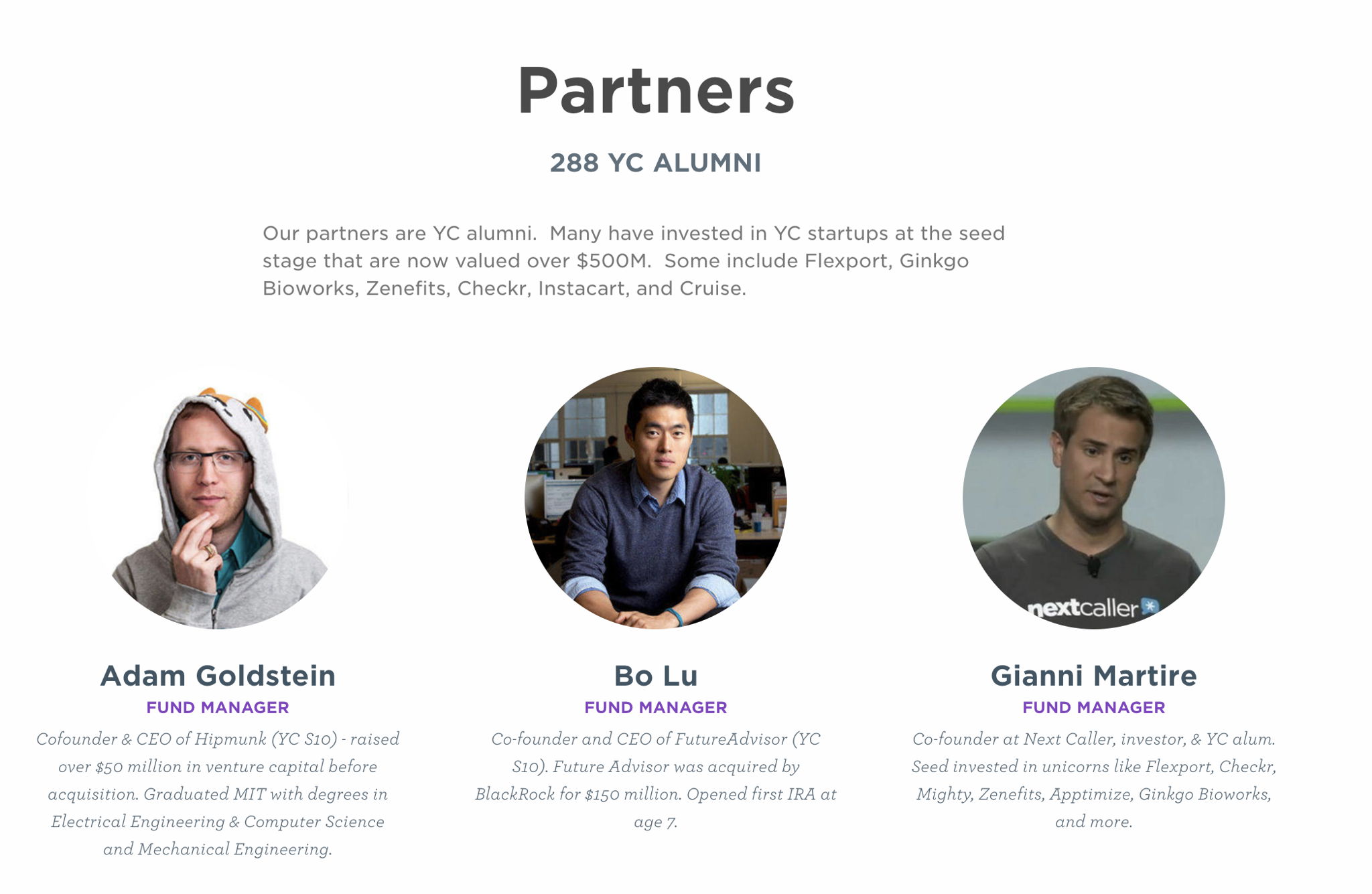 Here are the main reasons you might want to become a partner:
It's 100% flexible. You can contribute as little as a couple hours a month. Ramp up or down your time as needed. This is designed for busy people with commitments.
Wefunder has the obligation to limited parters. Wefunder raises the capital from investors and handles all expectations, communications, compliance, and reporting. You don't take on the responsibility or obligation of raising your own fund.
It's fun paying it forward. You get to do the fun but most meaningful part: helping founders with a dream succeed. You get to see how you made a difference.
It's fun learning new things. You will be exposed to new businesses, ideas, and tech.
It's fun meeting cool people. Get matched with cool founders you should know.
It can double your returns. If you invest, you will also earn carried interest, potentially doubling your returns on your personal investment.
It's a lottery ticket. Every time you do something valuable for the fund, you earn carried interest - a share of the profits. If the fund invests in the next Uber, it can be worth potentially millions of dollars.
In some cases, invest without being an accredited investor. Partners do not need to be accredited investors. Depending on the state (each has different laws), some unaccredited investors can invest as little as $100 in a startup that the fund invests in.
---
A new kind of venture capital firm powered by the "wisdom of the experts"
In every industry or area, there are certain types of people that spot the most promising new startups first. They could be influencers, hackers, early adopters, founders with exits, technologists, community leaders, lawyers, or angel investors. They may not have a lot of money, but they have expertise, judgement, and networks.
Our goal is give these people more power. We believe better investing decisions will be made by following the "wisdom of the experts" rather then a handful of VC partners.
Designing a role for busy people
Our partners are often very busy doing their full-time job - for instance, running their 100-person hyper-growing startup. This is what partly what makes their wisdom so valuable. The contradiction is that they don't have the desire to build up their "cred" as a full-time professional investor.... and there is only so much time they can provide, because they are putting almost all of their energy into their own passion.

AngelList Syndicates was an early attempt at letting influencers also be investors. It works well for a particular genre of "tech celebs" who have a strong brand. However, even then, there's a cost. For instance, investors look down on founders who spend too much of their time as investors and building their personal brands instead of focusing on growing their company.

Our goal is to build a system where a team of dozens of experts contributing part-time can add more value then a traditional VC... without sacrificing their own careers. We believe it's possible to be both a operator while helping more startups succeed.
We do this with a combination of software, recruiting a team of partners with complimentary skills, and Wefunder taking on all of the "not fun" work.
Wefunder does the grunt work so you can do what is fun... and more meaningful
Our funds are a hybrid model. They are not completely decentralized. The key to making this work is that Wefunder takes on most of the operational and "not fun" work so that we can empower partners to do what's important - their time is super valuable.
Wefunder does all the"not fun" work. We raise money from limited partners, handle investor communications, keep track of IRR and returns, sign the follow-on financing documents, keep tabs with the portfolio, connect founders with the experts that could help them , set up the technical due diligence, do compliance and anti-fraud checks, do all the legal work, be the "bad guy" in negotiations if needed, etc. If it's not "fun", Wefunder does it.
The part-time experts do all the things that are "fun". What is fun? Meeting inspiring founders and helping them succeed. In other words, the things that matter.
Wefunder also hires fund managers. Each fund has at least one experienced Fund Manager that can provides a larger time commitment. The perfect example is a founder that recently sold their company and wants to avoid the daily startup grind for couple of years before starting their next one. Along with Wefunder, these managers help coordinate the part-time partners and provide more supervision.
What kind of things can you do?
Here's just a few ways you can contribute to a fund and earn carried interest.
Source good startups. Are you always around good startup founders? Introduce them to the fund and help raise them money.
Vet founders. Are you good at talking to a founder and knowing if they are formidable, have grit, won't give up, and know their business inside out?
Hold office hours. Would you like to reserve a couple hours a month to lend your expertise to founders?
Invest personally. Would you like to invest in more founders in smaller amounts, while delivering more capital to those founders from the fund?
Technical due diligence. Would you like to dive into a tech that is up your alley?
Look at legal issues. Are you an IP or immigration attorney?
Be a connector. Are you the sort who knows how to match up people who get along?
Be a lead investor. Do you want to be the main point of contact to mentor a founder you invested in, and negotiate the terms for the group?
Be a Fund Manager. Do you have more time to invest, and/or have more experience with angel investing?

How Compensation Sharing Works
The partners in a fund are compensated with 15% carried interest. Carried interest is a share of the profits from all investments.
Here's an example: Let's say the fund invests $200,000 in the NextUber. 10 years later, they go IPO, and that stake is now worth $200 million. First, the $200,000 is returned to the investors of the fund. That leaves $199.8 million. Then 15% of that - a hair short of $30 million - gets divided among the partners.
Each fund decides (at the time of the initial deal) how they handle the division.
Some funds with a smaller team of partners might handle it on a deal by deal basis -after each investment, the fund manager will determine who earns carry.
Funds will likely give the vast majority of the carried interest to partners that source and act as a lead investor - for instance, if one partner brings a company to the fund, invests the largest amount, and helps mentor the founder, they may earn 10% carry.
We expect that most funds will reserve 5% of their carry as 500 points (1 point = .01% carry). The fund managers then award those points when partners do helpful things, like holding office hours or doing technical due diligence.
---
How do I become a partner?
You can apply to be a partner on the fund profile page. A fund manager then has to approve your application.
We are starting small and exclusive, hand-picking those we feel are top-notch experts.

However, part of Wefunder's mission is to democratize venture capital - we believe those without reputations or stamps of credibility should also be able to help founders.
We plan to soon open up funds to anyone, where they can become "members". Members can then earn a promotion to "partner" by doing good things for the team.
However, for the initial launch of funds, we want to keep things smaller and more manageable. Please be patient with us in the meantime.
---
Any thoughts or questions?
Please let me know! I'm happy to answer any questions.
This is part 3 in a 4 part series introducing Funds.
Part 1: A quick overview!
Part 2: Why invest?
Part 4: What if I am unaccredited?