48-hours left: Altcoin.io raises $800,000+ from 900+ investors
Hey everyone!

Andrew Gazdecki, CEO & founder of Altcoin.io here.

We've raised over $800,000 from 900+ investors and once we reach $1,070,000 in funding we cannot accept new investments.

Our fundraiser ends in 48 hours and I'd like to keep you updated with our progress.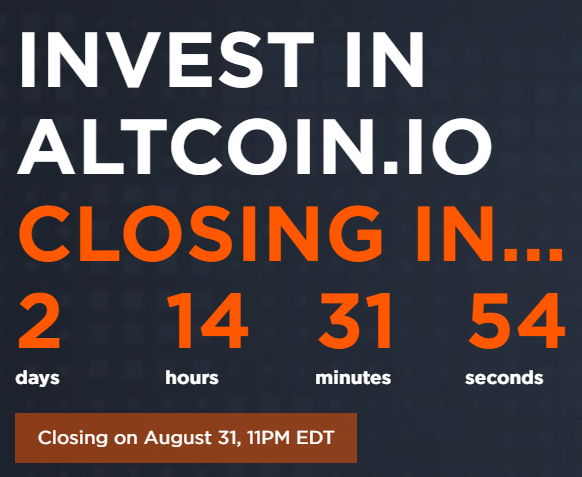 Become an Altcoin.io investor through Wefunder here: https://wefunder.com/altcoinio

Here are four recent Altcoin.io updates...

1) Share in our success by investing in Altcoin.io through Wefunder

2) August update: Mobile UX, atomic swaps, and Plasma DEX v2

3) Test the future of crypto trading with our latest Plasma DEX

4) Security token trading is a multi-trillion dollar blockchain opportunity

I'd love to have you on board as an early Altcoin.io investor so if you have any questions, concerns, or feedback please let me know.

I'm more than happy to get on a call with you to answer any of your questions – just reply to this email.

Thanks again for all your support!

Cheers.

Andrew Gazdecki
andrew@altcoin.io
CEO at Altcoin.io