First Pre-Production Parts
Hi everyone,
I am happy to report that the closing process of our successful Wefunder crowdfunding campaign is nearly completely finished. There are still a few i's to dot and t's to cross, but we expect this to be wrapped up this month.
In the meantime, we've been able to start moving the Modbook Pro X into pre-production and today we'll be sharing a few selected photos from a shiny first set of parts.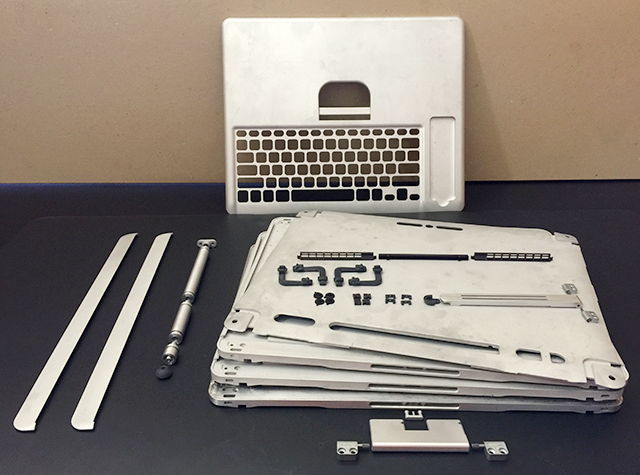 Feature focus: MonoProp
The built-in MonoProp Mount is featuring a standard tripod screw thread and, using the MonoProp Stembolts, allows the Modbook Pro X to be configured for use in various landscape and one portrait angles.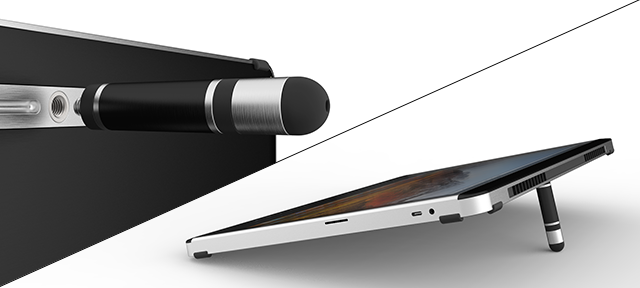 Here are the MonoProp Stembolts above the Alphabody with the MonoProp mount and its two screws, pre-installation: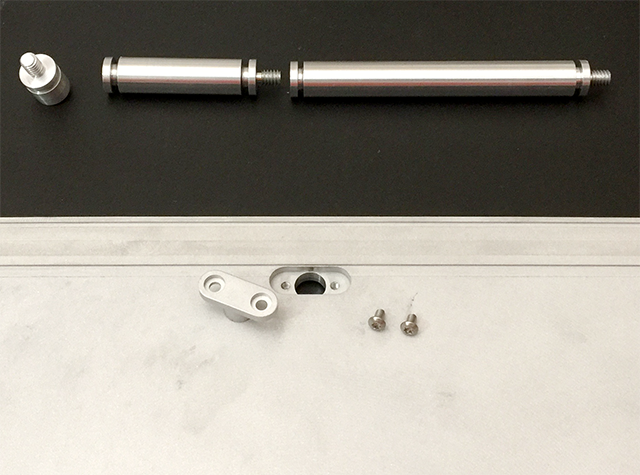 ... and MonoProp installed, viewed from the top (this will be not visible, as the display will be mounted on top):

… and viewed from the bottom, showing the industry standard tripod screw thread extruding slightly between the two support recesses which are part of the Alphabody:

… with the MonoProp Stembolt about to be attached: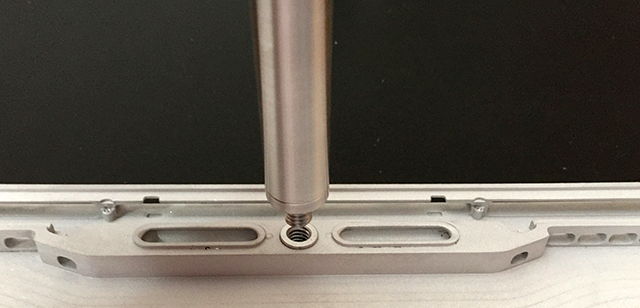 ... and the Alphabody in canvas mode (landscape orientation), using the max length Stembolt configuration - also visible in the background are the BackCover (left) and the KeyboardStand TopCase (right):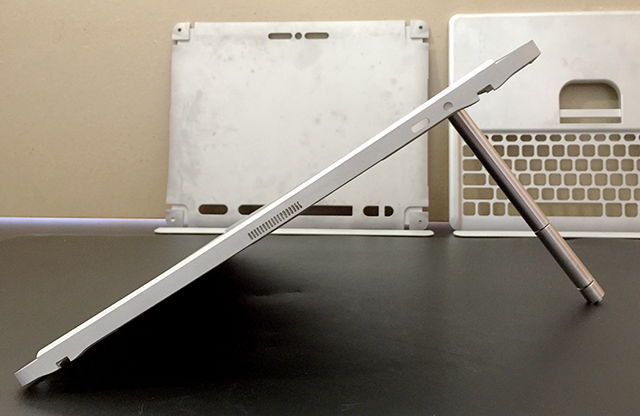 Feature focus: Presentation Stand
The Presentation Stand will allow you to stand up the Modbook Pro X in landscape orientation.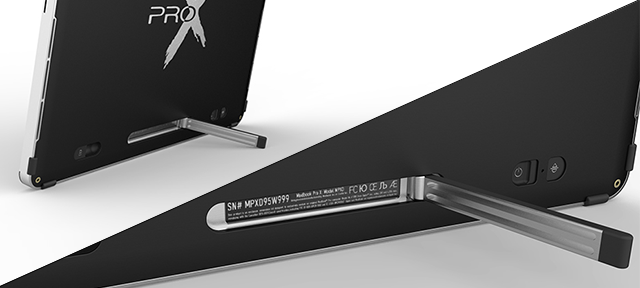 Here is a view onto the back of the Alphabody with the BackCover assembled and the PrezoStand folded in: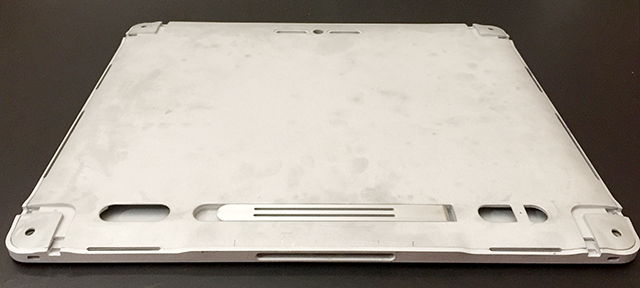 … and folded out: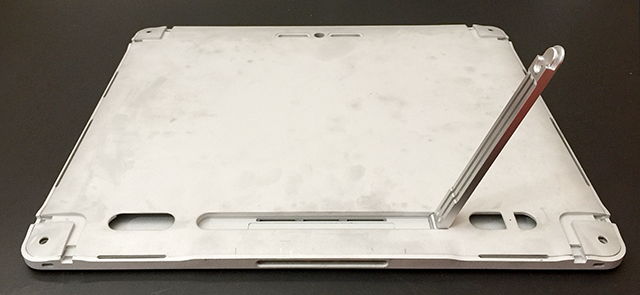 … and finally standing up: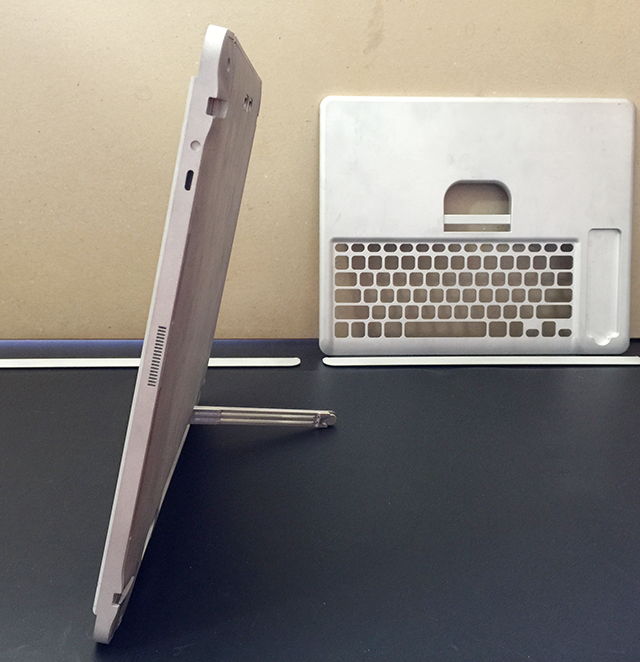 Feature focus: Color Sample Dummy
We also create a Color Sample Dummy, in order to allow those who want custom colors to review what different combinations will look like. Taking the Modbook Pro X full CAD model, we cut away everything but the forward left 40 mm square (and then did a little clean up).
This gives us three cropped, but full scale sections of Modbook Pro X you can see below to the left (partially assembled Modbook Pro X on the right). In clockwise order, BackCover, AlphaBody, and TopBezel: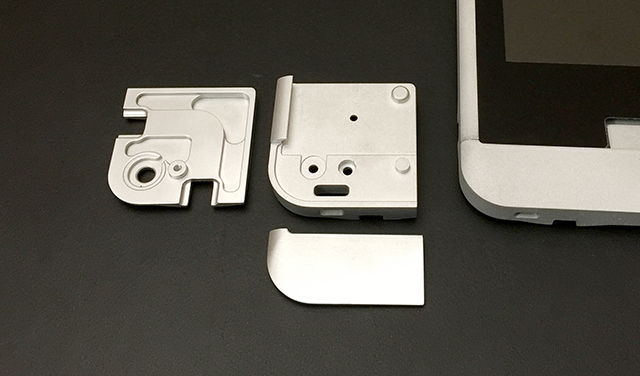 Finally...
Of course, we couldn't let this update end without at least giving you a first glimpse at what a more completely assembled Modbook Pro X will look like (with rear and front TopBezels, and DisplayPanel dropped in):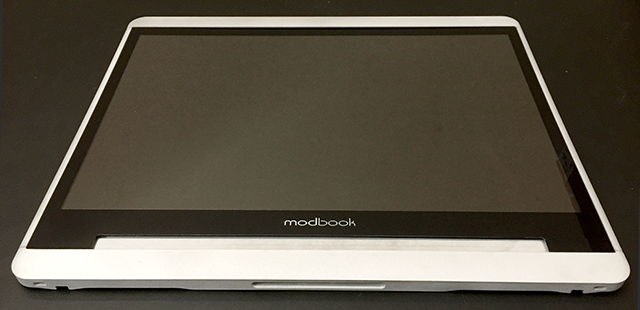 For a first set coming together from our suppliers, we were satisfied with the overall fit and function of the parts, both on their own and in concert with each other.
The parts as reviewed and photographed above, did not have any of the final surface treatment (i.e. brushing, anodizing) done, which is what we'll be reviewing in the next update. That is also where we will take a much closer (and critical) look at the individual parts, as well as their relative fit and function.
That's all I've got for today.
Best regards,
Andreas and the Modbook team