Mid-Year Wefunder Update
TL;DR
Since our last investor update, we hired 17 new team members and solved many of the operational problems that constrained our growth in 2017.
In Q1 2018, while we focused on recruiting and training the new team, most of our metrics declined month over month. However, in Q2, after the new team was onboarded, we quickly re-accelerated growth and hit new all-time highs.
In Q3, we intend to grow at least 20% month over month. With the larger team, we're operating at a loss, and expect to re-achieve profitability in September.
The most important impact of our larger team is that we now have the resources to innovate again, while growing. Our user-facing product stagnated over 2017 as we struggled to automate an overwhelming operational workload. Now, we have enough humans to do the core job, with enough capacity to work again on product innovation. Some major improvements will be rolling out soon.
There are also several regulatory improvements that we expect will hyper-charge growth, including the Fix Crowdfunding Act and the recent Tax Reform Bill.
We're also asking our investors for help in getting a secret project off the ground. Scroll to the end for more info.
Some Stats
Number of Investments. Our number of monthly investments - after a slowdown in Q1 - accelerated to hit an all-time high in May.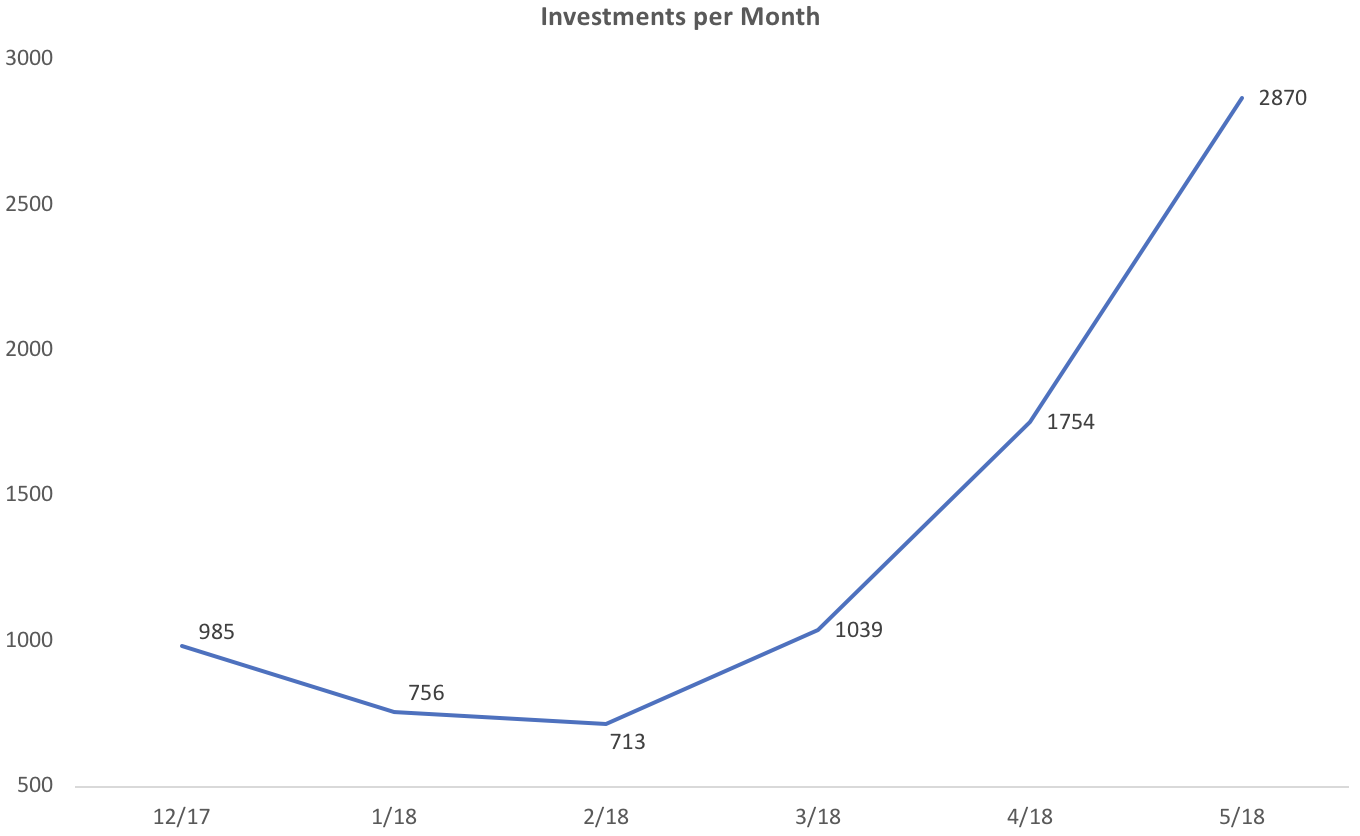 Market Share. Our market share has decreased as we paused to fix our operations problems, but we are the largest funding portal. We believe our much stronger team - and the features that will soon be rolled out - will soon increase our lead and market share back to where it was in 2017.

New Companies in Pipeline. A leading indicator of our future growth are the number of "full-service" companies that we add into our launch pipeline. It takes 4-6 weeks to launch a company after they are added into the pipeline. Our incremental cost of acquisition for the 31 companies in May - 2X our past high - is close to $0. We still do no marketing or advertising. We've focused on referral partners, freed up Dylan to fix our sales process, and hired Jonny Price (former head of Kiva US) as Director of Business Development.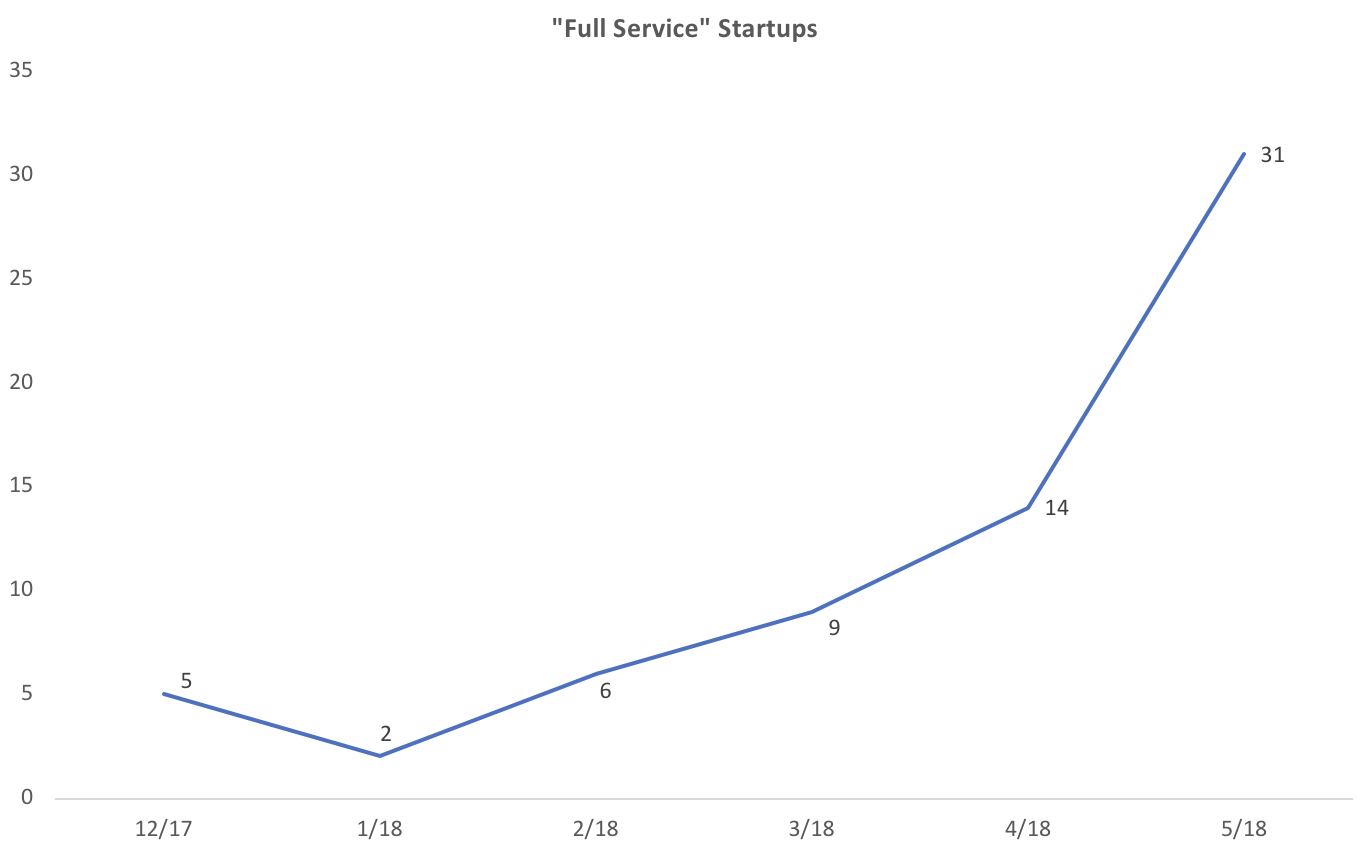 Returns. We never lose sight that our long-term success will be tied to ultimate investor returns, not simply funding volume. So we've released all of our returns at https://wefunder.com/results, and will update it as more data comes in.

17 New Team Members
My favorite part about Wefunder are the awesome humans I'm surrounded by. Since the last update, we've recruited 12 new full-time team members and 5 full-time interns. Our team has grown 3X in the last 9 months.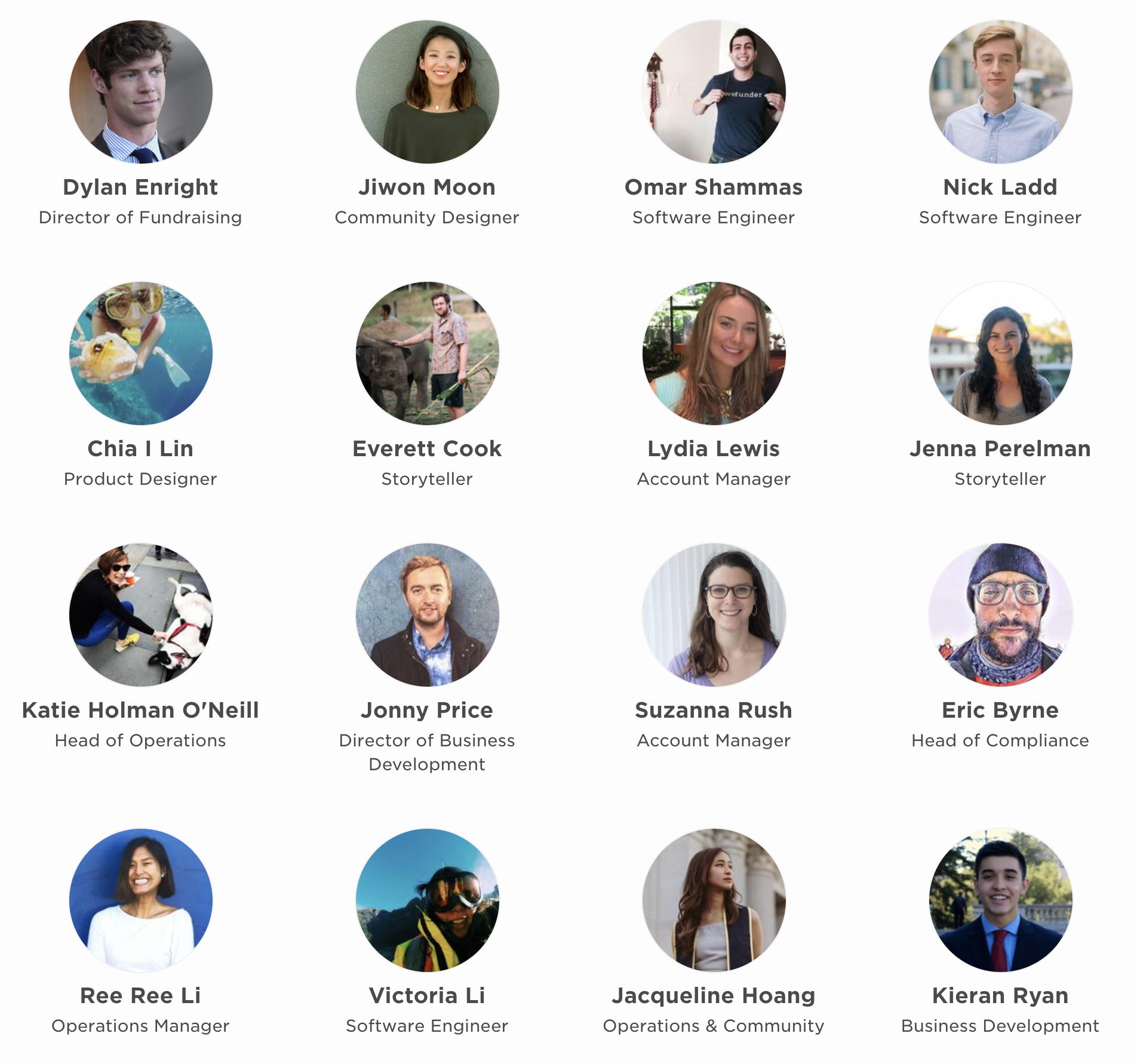 Since the last update, one team member has left an active role. Mike Norman stepped down as President of Wefunder in February, but is still with the company. He's currently on sabbatical for the foreseeable future, taking some well deserved R&R after 6 years of a grueling startup grind. He played an integral part in recruiting and onboarding the new team, while gradually handing off his responsibilities.
Regulatory Landscape
The market size for equity crowdfunding is still small. Thankfully, there are regulatory changes on the horizon that are expected to expand the market.
The Fix Crowdfunding Act. The most important change on the horizon is the Fix Crowdfunding Act, which passed the House, and is now in the Senate. 80% of the companies who want to crowdfund drop out after they learn it's illegal to raise via a "single-purpose vehicle" (which aggregates all investors to one entity on the cap table). This bill would legalize SPV's. Just last week, the Senate bill was vetted by the SEC and by progressive consumer protection groups. We hope it will pass the Senate in September. We expect it would 10X our growth.
Innovation Funds. The tax reform bill creates "Innovation Funds" where capital gains can be waived when investors invest in "Innovation Zones." The IRS is expected to finalize the rules this summer. This will help us raise a lot more money to invest in businesses.
Dodd-Frank Rollback. As part of the Dodd-Frank rollback, the number of investors allowed in Venture Funds has been increased to 250 per fund, as of two weeks ago. This will help us create more micro-funds that will deliver more capital to companies, and get into better deals, earlier.
Accredited Definition. In 2015, the SEC and the Treasury Department recommended the law be modified to allow anyone to take a test to become an accredited investor. There is now a bipartisan Senate bill that proposes to do just that. We predict it will eventually pass, but the jury is out on when.
SEC Three Year Reg CF Lookback. The SEC is currently conducting their three year look back at Regulation Crowdfunding. Based on our conversations with them, the utter lack of fraud, and the smallness of the market, we believe it is likely that the SEC will reform the rules in 2019 to make Reg CF better.
ICO's. The era of the unregulated ICO has closed. Over the past few months, the SEC has clarified that almost all ICO's are securities, and are therefore regulated. We don't see any indications that Congress or the SEC will pass special regulations for ICO's. Instead, to be legal securities offerings, ICO's must qualify under an existing exemption, such as Reg D, Reg A+, or Reg CF.
Request for Help
We're currently working on a new project: micro venture capital funds that invest in specific industries, geographies, or causes.
We could use help with:
Introductions to potential venture partners. We're looking for experts in every industry who can serve as venture partners in our funds. Our pitch is simple: if you invest personally, a fund will 5X your investment, and you'll earn 15% carry on that amount. This will about double their potential returns.
Introductions to family offices and institutional money to serve as LP's. While Wefunder has over 10,000 accredited investors that will invest as LP's, we'd like introductions to larger-dollar investors. The pitch: we can combine our past expertise (53% IRR in past Wefunder funds) with the wisdom of the experts to maximize returns.
Introductions to social impact investors who would like to shield against all capital gains taxes. The new Tax Reform bill waives capital gains taxes in Opportunity Funds, which are required to invest in Opportunity Zones (which includes most of Detroit, Oakland, parts of LA, etc). This is a great opportunity to invest in revitalizing local communities at higher returns while saving on taxes.
We'd really appreciate any help on this project. Please email me at nick@wefunder.com if you have any thoughts or connections you think we'd find useful.