Happy 2018! 2017 Q4 Goal Accomplished
We want to thank our supporters of our unique Waypoint space telescope for combined astronomy and ground observation. We really appreciate your support!
We accomplished our 2017 fourth quarter goal of finishing our secondary mirror deployer design. We changed the design from a four post extension to a three post extension, which lowers the weight and cost, while actually providing more stability for the type of optics we are using.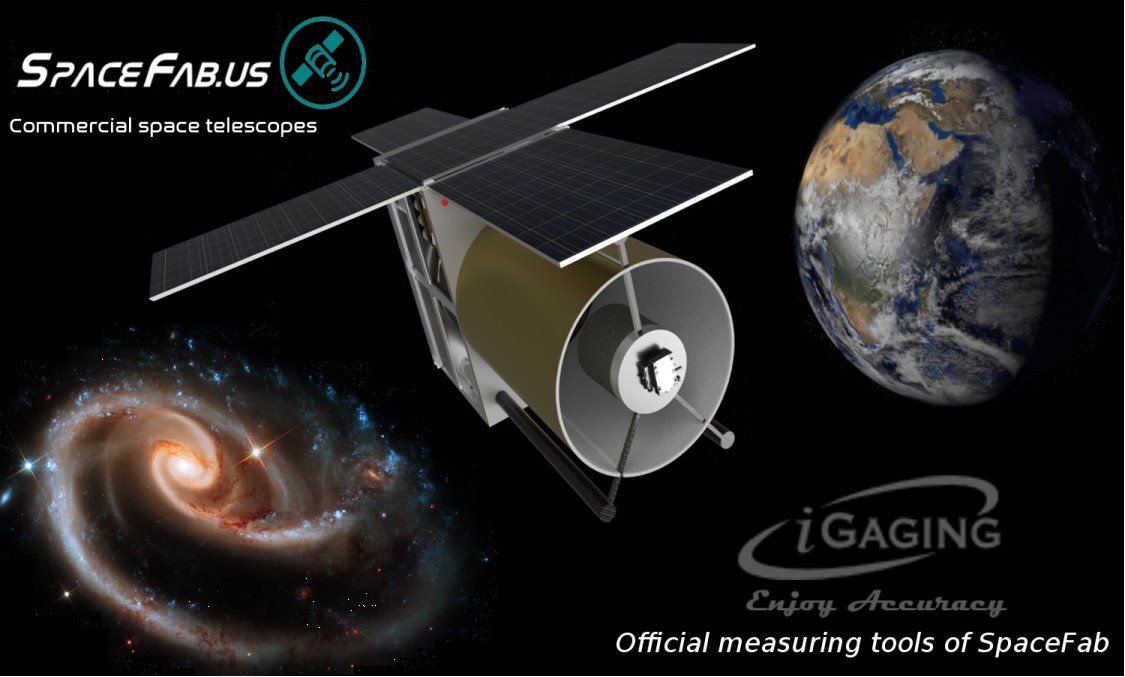 We have added new corporate partners in the last few months. One of them is iGaging (www.igaging.com), a manufacturer of fine mechanical and optical measurement devices. We have several of their digital calipers, and use them almost every day to measure the dimensions of parts of our spacecraft. The postcard image above shows the latest design of our Waypoint space telescope.
We have also added OPT (www.optcorp.com), the largest telescope retailer in the world, as a new corporate partner. They have featured us on the front page of their website, helped us redesign the SpaceFab.US website, and are helping us with their marketing expertise.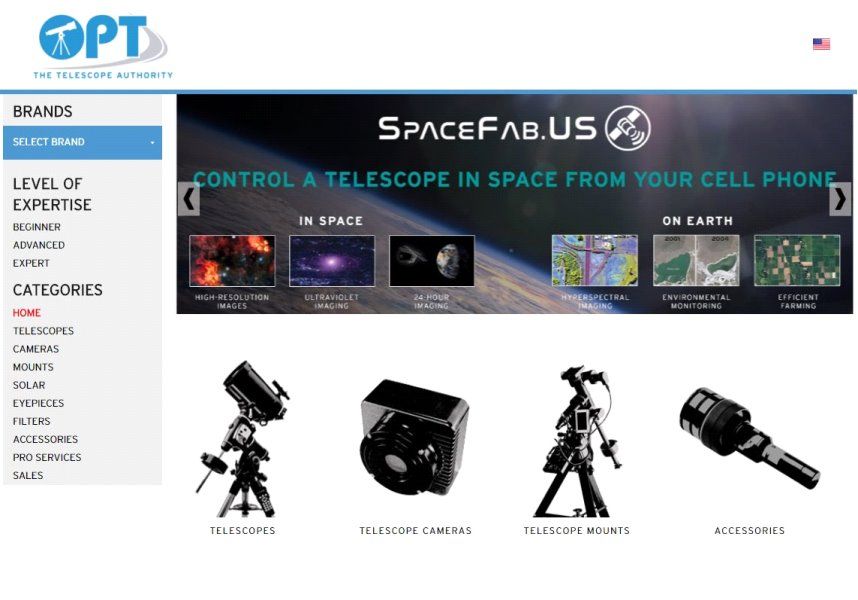 We have also added something new to our spacecraft design -- Space Selfie capability! We have already added a color screen to the spacecraft body, and a camera to one of the solar panels. We will be opening a separate crowdfunding campaign, so the general public can have their pictures taken in space and sent back down to them.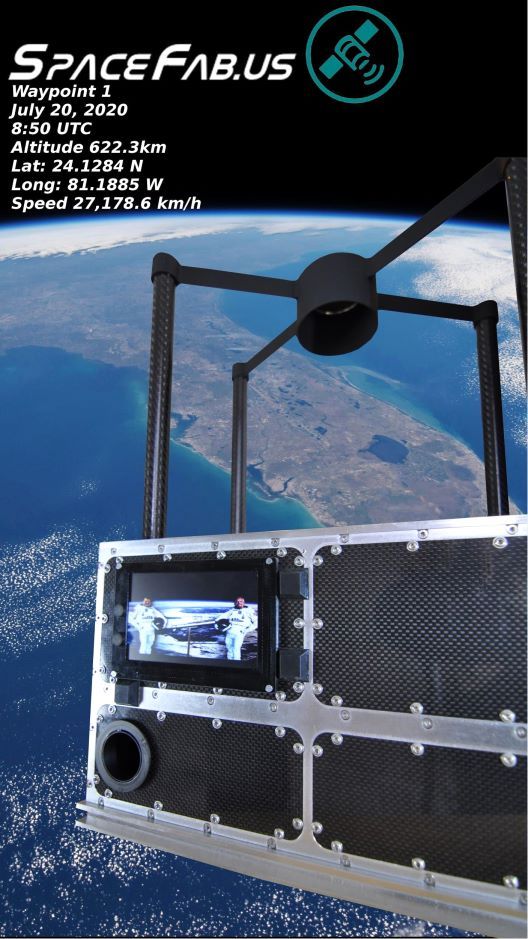 The customer photos will be loaded into the satellite prior to launch, and there will be enough storage to hold thousands of photos. After satellite checkout in orbit, we will display each photo on the OLED screen and record the photo with the Earth in the background, then download via our laser downlink and email them their space selfies.
Designing this capability is not easy, mainly due to the temperature extremes. The temperature of a solar panel and other external parts can get as cold as -80 degrees Celsius, or the temperature of dry ice here on Earth. We think the Space Selfie capability will be worth the extra work.
We will have an exhibition booth at the AAS (American Astronomical Society) conference in Washington, DC in early January. Planewave Instruments was kind enough to share some space with us at their booth last year, but we have decided to have our own booth this year.
If you will be at the AAS meeting, be sure to check out our latest engineering model. It now houses the filter wheel, tertiary mirror, selfie screen and camera, on board computer, the three main imaging chips, deployable solar panels, and more.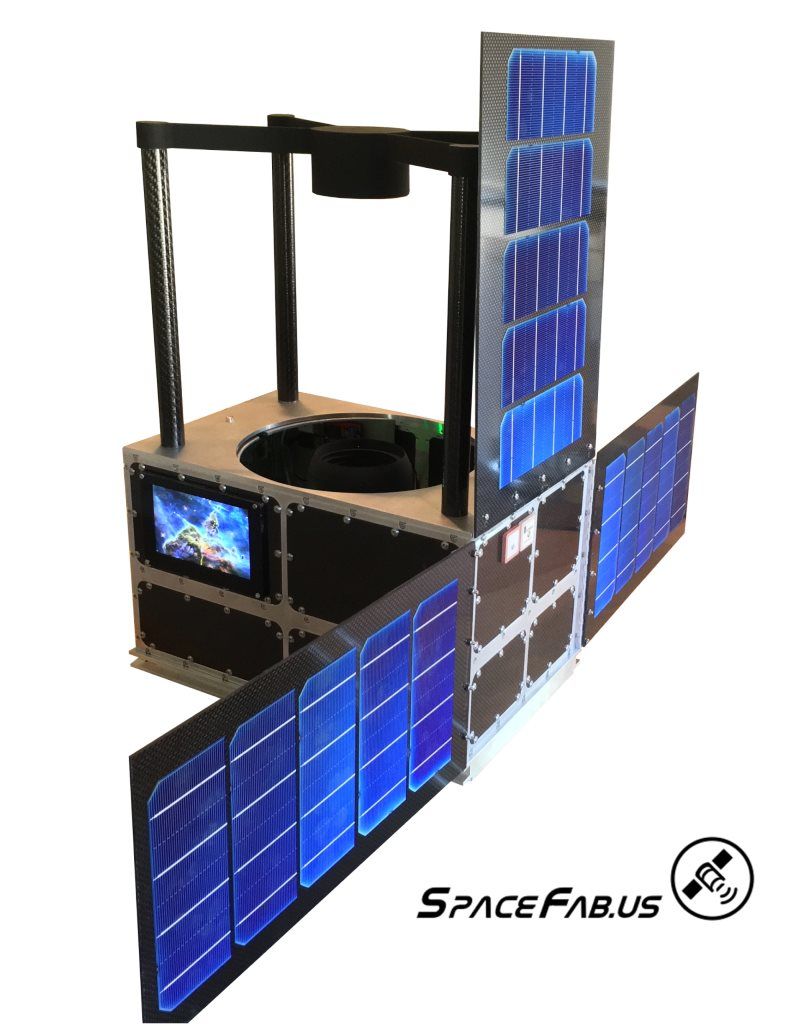 If you are a professional astronomer attending AAS-231, please stop by and say hello. We will have a daily raffle for observation time on our Waypoint space telescope, as well as a chance for a space selfie. We'd love to tell you about the capabilities of the Waypoint and would like to hear about any projects where it could be useful.
Our fundraising campaign on Wefunder has less than two months left before it closes, so please tell your friends and family who are interested in space about us, and help us spread the word, so we can achieve the rest of our goals in building a space telescope that everyone can use.
If you have any questions, you can reach us here at www.wefunder.com/spacefab, or at info@spacefab.us .
Thank you!
Randy Chung, CEO and co-founder, SpaceFab.US
Sean League, Director of Spacecraft Development and co-founder, SpaceFab.US