Train Trip Day 3: To Grow or Not to Grow in Kansas City
Sheryl Vickers is born and bred Kansas City, so loyal to her hometown that she sometimes apologizes to other locals for briefly living in Texas. As a commercial real estate broker, Vickers will often represent small businesses in their quest for brick and mortar homes. Right now, she has around 10 clients. Five of them are large conglomerations with dozens, sometimes hundreds, of national locations. Five of them are small businesses with less than 3 locations.
This is typical Kansas City, a place with old, established money that might also be on the cusp of a massive small business boom. It was the first city to receive Google Fiber back in 2011, is home to the headquarters of companies like H&R Block, Cerner Corp., and Garmin, and recently saw the launch of Plex Pod, a 160,000 square foot co-working space believed to be the largest in the world.
For all its massive growth potential, though, Kansas City is still grappling with how to remain local. Small business owners in the city say that their customers are people who, more than other places across the U.S., take a real pride in their city and the founders starting small businesses there. The customer base isn't necessarily excited about their favorite places becoming the country's favorite place. As a result, expansion blueprints aren't as obvious.  
Bo Nelson, co-founder and owner of Thou Mayest Coffee Roasters, has this crunch in mind almost every day. He fell in love with coffee after taking a postgraduate trip to South Africa and Zimbabwe, where the former architecture student realized that good coffee could do more than just fuel late night studying.  
He opened Thou Mayest Coffee Roasters, a coffee shop that transitions to a bar at night, three years ago. Nelson sources the coffee globally and charges only $2 a cup, but says his main focus is the community around the space. He hosted six different vendors for a holiday pop-up shop this week, and Thou Mayest was recently named the No. 1 spot for singles in Kansas City.
"It's a $2 barrier to enter a space that could change your life," Nelson said. "That's why I love coffee. It's my chance to show how democratic a product can be."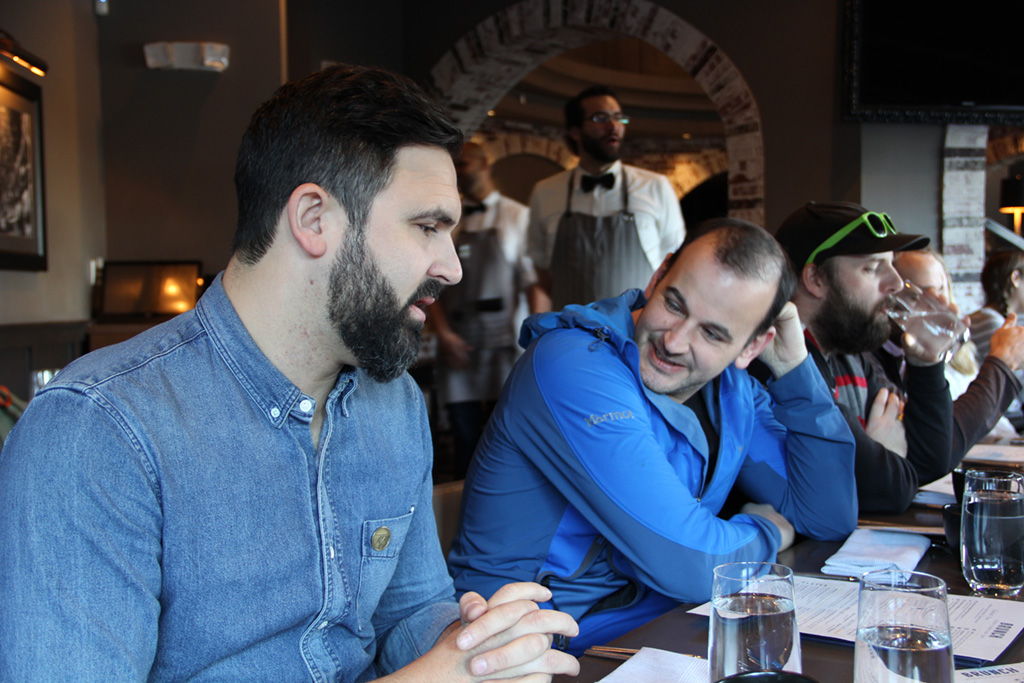 Thou Mayest is built right next to a 3,000 person music venue. When it first opened, Nelson said that if he ever got a chance to meet Wilco, one of his favorite bands, he'd consider the business a success.
Now that he's hung out with the band multiple times on their tour bus, Nelson has been forced to shift that vision. It's likely time for an expansion, but Nelson has seen what rapid growth can do to a community-based coffee business.
If the third wave of coffee saw companies like Blue Bottle sell 68% of its company to Nestle for $425 million, Nelson thinks a lot about the fourth wave. How can he maintain connection while expanding to three Kansas City locations? Is the revenue boom worth the loss of community that could happen by opening 10 locations in five different cities?
"Great coffee should be pursued, but the industry needs to put its pinky down," Nelson said. "Instead, focus on connecting with real people at a real price."
Less than 20 miles away, the team at Pro Athlete is thinking about a whole different set of problems. As the largest online baseball bat dealer in the world, they aren't worried about getting too big. It has a 50,000+ square foot office and warehouse facility outfitted with a batting cage, basketball court, swimming pool, sauna, racquetball court, and more. Its 52 employees can use these facilities whenever they want, plus get free haircuts and massages.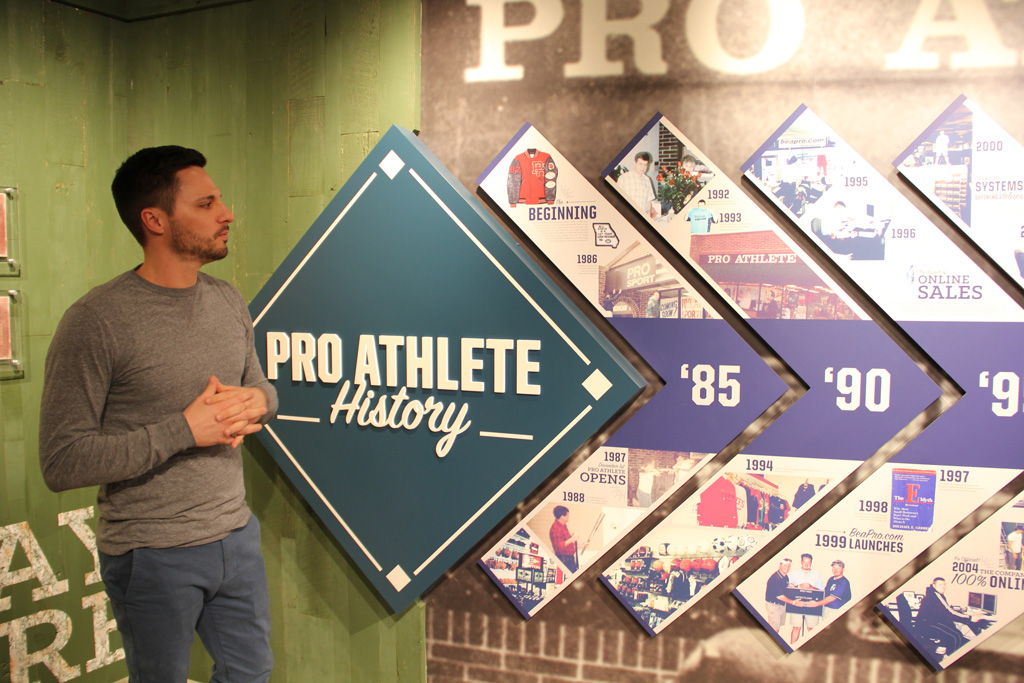 Pro Athlete connects to the community mainly through the local sports teams. A meeting room is painted to look like Kauffman Stadium, home of the Royals, while another hallway is lined with what appears to be every conceivable piece of Royals memorabilia, from 50+ bobbleheads to champagne bottles popped in the clubhouse after the team's 2015 World Series win.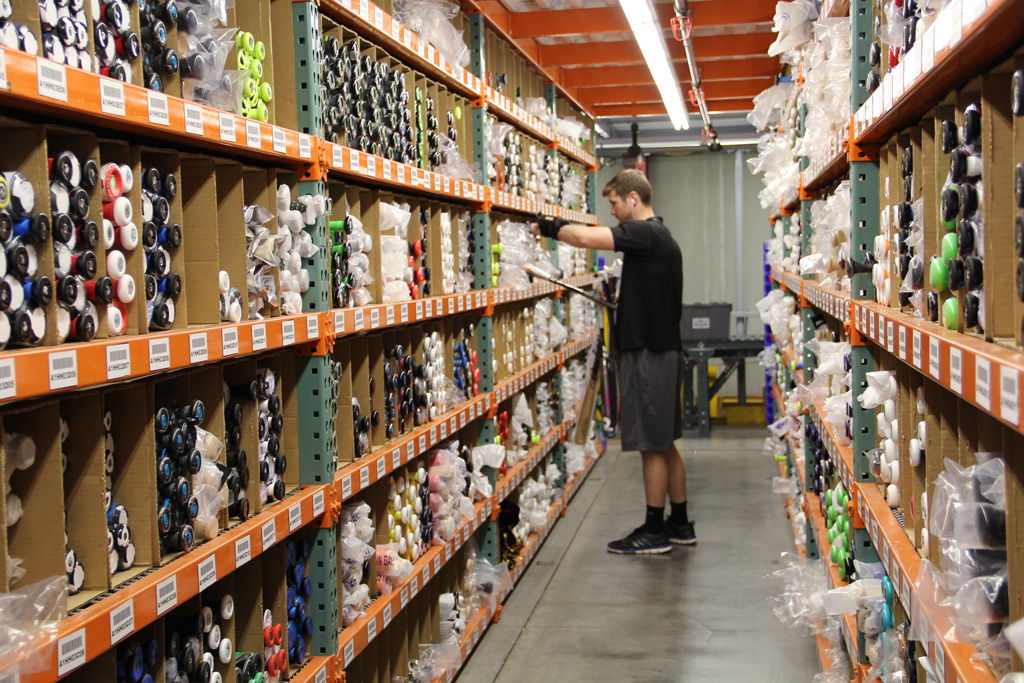 While COO Andrew Dowis couldn't disclose Pro Athlete's exact revenue numbers, he did say they complete more than 250,000 orders of bats and gloves a year and bring in between $10 and $50 million annually in sales. This is not one of the Kansas City companies struggling to expand, rather, it's one figuring out how to remain both large and local. E-commerce giants like Amazon and Walmart are always a threat to enter the bat and glove market, so Pro Athlete is starting to have conversations about adding new products to a business currently celebrating its 30th year in business.
The scale at Thou Mayest is much different, but the underlying conversations are the same: How do we expand and profit from the uniqueness of Kansas City without losing what makes it special? 
"Entrepreneurship is what's going to change the world," Nelson said, rolling up his shirt sleeve to reveal the goosebumps on his arm. "Because that empowerment, true entrepreneurial empowerment, is not about giving people fish, or even about teaching people how to fish. It's about creating ponds."