Wefunder Visits Slingfin, maker of the only tent that's survived atop Mount Everest
Martin and Rich are typical outdoor geeks. Every time I see them, they greet with the most Californian-chill smiles and ask if I want to join them on their next rafting trip. Inside their cozy studio, they're usually tinkering around in bright Patagonia shorts and suntanned toes peeping out of their well-worn leather sandals.
When you walk into Slingfin's HQ, you quickly realize that the fabrics and tools in their studio have been around as long as Martin's been making gear since high school. They don't care about being the hippest, coolest outdoor gear company that everyone aspires to be. These guys really just care about making the best quality outdoor gear in the world, and they don't plan on stopping.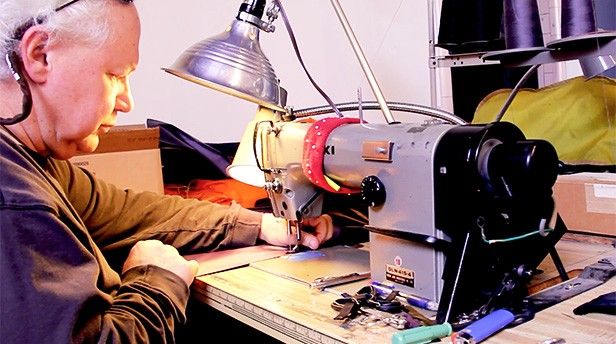 Watch our video for a quick update since Slingfin's fundraise last year. You can also find the full interview in text below.
Meet Slingfin and CEO Martin
How old were you when you made your first gear?
Martin: I was in high school. I saw a backpack and thought it was made like crap, so I decided to learn how to sew. I got off the wrong foot with the design tools and had to get past the basic blunders in the beginning. Then I started a company called Sierra Mountaineering and sold gear all over the country.
Soon after I went to UC Davis and eventually worked at The North Face and Sierra Designs after graduating. Then, I was one of the founders of Mountain Hardwear.
It's always been about making things and not copying what other people do. I value learning from everything you see and all your experiences. Figuring out design challenges and finding solutions is what I love to do.
Which product are you most proud of making?
Martin: I made a tent that Babu Chiri Sherpa used to spend the night on Mount Everest and he did that successfully. He's the first and only person that's ever done that.
What's the best thing about Slingfin?
Martin: Wall Streets have come and taken over lately, especially as older founders have retired. I think a lot of small companies like ours have been in this industry for a long time. We've continued the tradition of innovation.
We're not all that different but we're doing what people did when people started this industry, which is you went out and used gear and tried to improve on it. We have more experience than these new companies. Most older companies have left. We're going back to the way it used to be and making gear that works and people can count on. When you're on Everest, you're a millimeter away from freezing to death. People come to us when they need something that counts. We don't market that things work. We make things that work, which turns out to be the marketing for us.
If you can take your Slingfin team anywhere in the world for an adventure, where would that be and why?
Martin: I'd take them down to Grand Canyon because it's an incredible trip through time and you can hike, swim, fish and do everything. Geologically, it's incredible.
The Day-to-day at Slingfin
What's happening today at Slingfin?
Rich: I'm putting together the perk pacakge for our Wefunder investors. I'm getting them out so our investors can wear them proudly as soon as they can!
I contacted everyone for their shirt sizes and shipping address. A bunch responded saying they'd pass on getting a shirt, saying we should use our money in other ways. Many investors understood our need for the money and decided to pass on their personal perk. I don't know what more you can ask for from investors other than understanding the importance of the cash we raised!
What are you most excited about these days?
Martin: We have a lot of snow in the mountains, which means we have more water, which means I get to go rafting. So I get to go rafting and test gear. And that's what I love. Ultimately, I love being in the studio and designing new products. We're also coming out with an ultra-light tarp, which weighs 8 ounces.
Another thing I'm excited about is getting a full page spread in April's Backpacker magazine issue. This is pretty unheard of for a company our size. I'm excited about where we're going. We've laid the groundwork for all this, and it's nice to see that it's all working. And with the help of our investors, it's allowed us to continue at a quicker pace and with less pain.
Latest Investor Updates
What's the biggest thing that's happened since the closing of your fundraise?
Martin: We have a new guy, Tim Hunt, who's amazing. He's hiked the PCT (Pacific Crest Trail) and the AT (Appalachian Trail). He's on the road right now opening dealers in the Southeast. The Southeast is important because it has a lot of specialty dealers, not like in the West where there are bigger retail stores. For brands like us, it's really important for us to get a foothold there. They're not early adopters in general, but we're starting to displace other brands in several categories. We also have a key chance of opening our biggest online retailer yet, which we should know more about soon.
How are the funds being used?
Martin: We're getting close to production of the Honeybadgers. We're making molds and sourcing the best place to make the parts. We're getting close to production. And now, Tim is representing the final prototype of the Honeybadger and showing it to dealers in the Southeast, and they're very excited about it. While we're going to open a Kickstarter for the Honeybadger first, we're also lining up dealers for during and after the Kickstarter project.
What are Slingfin's plans for the next year?
Martin: We have products outside of our traditional products in the works. I'm working on a 9-meter dome for events. Next year, we'd like more representation at outdoor events; big domes attractive a lot of attention. We'd also like to expand our distribution and put focus on Europe. A few years ago, we were the only US company to win a gold award at the largest outdoor show in Europe. And we'd like to capitalize on that and expand to Europe.
What's been the biggest challenge at Slingfin?
Martin: When you're small like us, staying true to your vision is hard. We're lucky to have investors, family and industry people who believe in what you're doing. It can be a rough road; it's been amazing to stick to the plan.
And it's always been a challenge to find the right people. We've had a difficult time to find a marketing person but we got lucky there with Tim. And we have dozens of people who are there to help.
Raising Funds from the Crowd
What was it like to fundraise on Wefunder?
Rich: It's a great opportunity. Even though Regulation Crowdfunding is a new idea, there are so many possibilities. Why not build this path to start companies as opposed to hoping someone else is going to do this for you?
What has raising funds from Wefunder allowed Slingfin to do?
Rich: The Wefunder platform and Reg CF has allowed a small company like us to stay true to our passion and our picture of how the company should be developed as opposed to going out to banks and VCs, and letting them dictate. It keeps the energy pure and this is important when you're trying to start a business. So the longer you can stay with the dream of what you want to do, the better off and closer you can get to having a dream you've always wanted.
Martin: We didn't want Kickstarter to fund the R&D part of the Honeybadger project. We wanted to deliver the products soon after the Kickstarter campaign. It's an honor to work with Wefunder and thank you for your help. Without the investments, it's hard for little guys like us to fund new and unique products. From our reaction of users and dealers, they're really excited about the Honeybadgers and I think it'll do really well.