Honoring Dr. Barbara Rosario, CTO & Co-Founder of Vyrill for Women's Month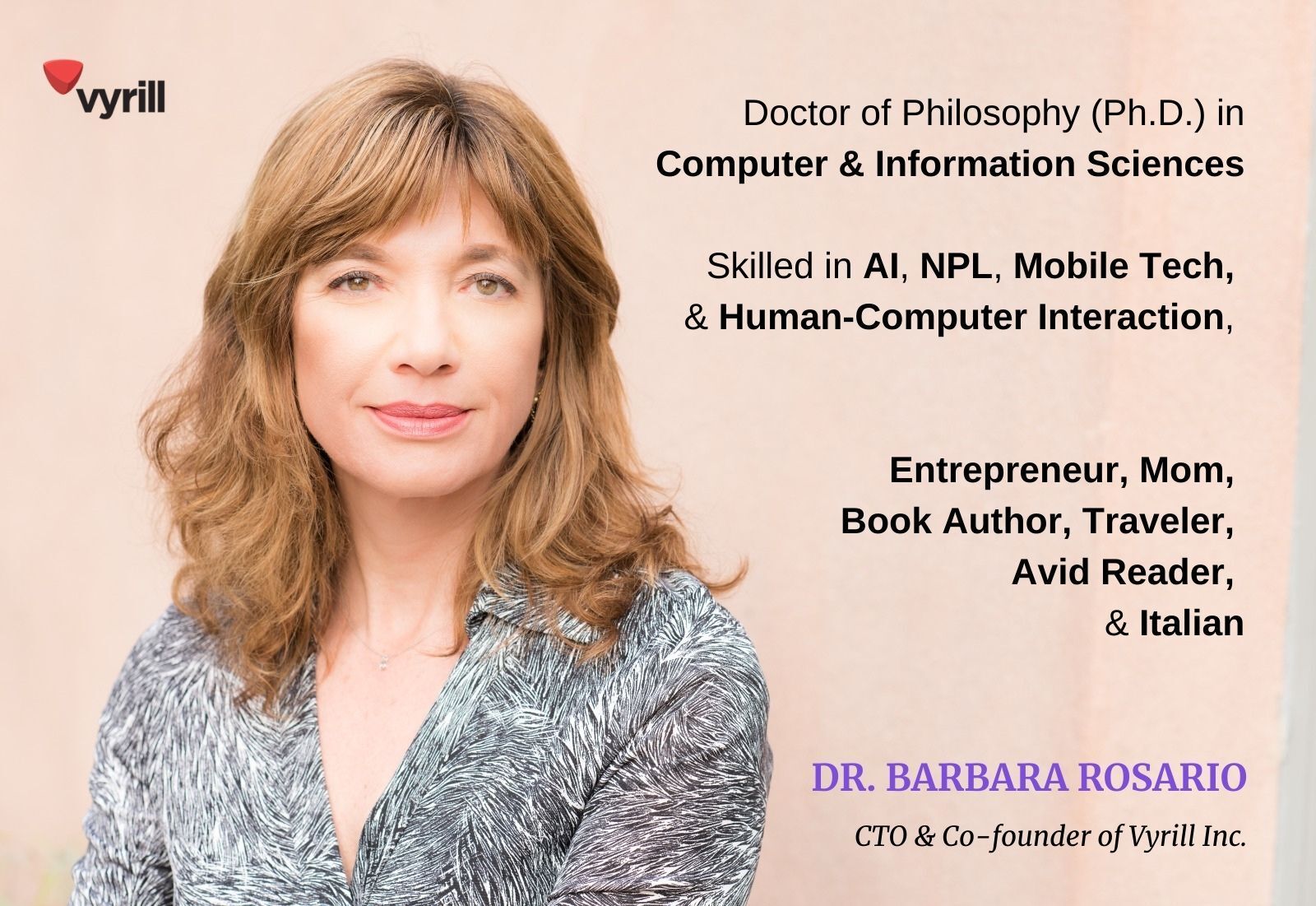 Vyrill was founded by Ajay Bam and Dr. Barbara Rosario, who understood after extensive conversations with brand marketers, that brands and retailers were struggling with capturing and understanding massive user-generated video content posted in 48+ languages across the web, smartphones and 20+ social platforms.
Ajay and Dr. Rosario found that brand marketers were looking for ways to understand, who is posting video content, where and when, and what consumers are saying about their products within their videos, and how to leverage authentic video reviews, unboxing and how-to and more for product marketing.
Beyond this, marketers were also looking for ways to find competitor data and insights for user-generated video content which led them to the question;
"Might there be a way to sort through all the video content to leverage product reviews for product marketing, or understand customer frustrations and be able to take specific actions?"
As smartphones and high-speed telecom networks as 4G and 5G happened, customers have begun to launch their shopping experiences by viewing videos on Google, Bing, Amazon and Youtube. However, Google, Bing and search engines in general, do a very poor job at finding and indexing videos.
Another problem was how to search inside the video itself. As customers watch videos, they want to find what they are looking for instantly, even when the video is long. No one has time to watch a long video or multiple videos. Offering a tool for in-video search, where customers can find what they are looking for instantly was a top priority for Ajay & Barbara.
With user-generated video content creation and consumption growing exponentially at 200% a year and since Covid, online video (including streaming video) has spiked growing an estimated 600% and continues to rise. Because 85% of consumers have said that videos influence their purchase decisions and offer a touch-free product experience, user-generated video has become essential to brands seeking to grow revenue.
Ajay and Dr. Rosario initially set out to build a 'video refinery', similar to an oil refinery, that would process 'crude video' and extract data and insights that are not only usable but that save time, energy and money. They spent three years working on research and development to train machines to watch and understand millions of videos in nine dimensions. Something that has never been done before.
They succeeded and Vyrill is the result.