Community is the new "moat"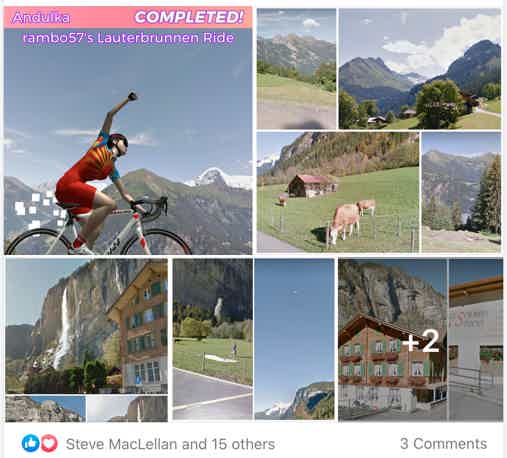 A large, growing, enthusiastic and active user community is increasingly seen by institutional investors as a key competitive advantage. We view it as the heart and soul of VirZOOM. Fortunately, the two views are compatible.
Jeffrey Bussgang and Jono Bacon recently published "When Community Becomes Your Competitive Advantage" in the Harvard Business Review.
Jeffrey Bussgang is a senior lecturer in the Entrepreneurial Management Unit at Harvard Business School and a general partner at Flybridge Capital Partners. Venture firms today view an engaged user community as a critical part of building a defensible business and brand and a requirement for investment. The VirZOOM team has since founding in 2015 made our user community and each member of it the center of attention. Listening, being responsive to needs, and putting our customers' interests first is a philosophy we all share as a team, from which we believe great products and a successful business follow as a matter of course.
The hardest decisions we have ever had to make as a team were those that had a negative effect on our customers but which were forced on us by externalities. For example, as a new industry like VR matures platform manufacturers come and go. Some rise, others stagnate, and others fade away, but application development and support costs for each VR platform is the same. A platform that is losing market share becomes economically nonviable to support as application sales revenue shrinks along with the number of VR platforms in use. Even if a VR platform is still gaining market share, as Sony PSVR has, as a developer with fixed resources we had to choose between making a less than great VZfit application that runs on multiple VR platforms or optimize VZfit for a single platform that we expected to lead the industry for the foreseeable future by a wide margin, and focus on creating the best product for our customers we can for it.
That calculus was behind our decision to develop solely for the Oculus Go and Quest stand-alone headsets in late 2018. As a result of that decision we had to leave a number of our customers behind on PC and PS4 VR platforms; our apps continue to work on these platforms but are not updated. While we have done everything possible to mitigate the resulting justifiable unhappiness that this necessary business decision caused, and most of our customers were understanding when we explained it to them, that choice and others we have had to make over the years that are detrimental to any of our customers sting because we think of our customers as our friends.
Whether you view a happy user community as a core mission or as a business objective, there is no denying the business value. The HBS article summarizes the value of way:

A Superior Business Model
If a company can transition from simply delivering a product to building a community, it can unlock extraordinary competitive advantages and both create and support a superior business model. Specifically:
1. Enthusiastic members help acquire new members, resulting in lower customer acquisition costs and a tight viral loop.
2. Members are loath to abandon the community, resulting in increased retention and therefore improved lifetime value.
3. Members support one another, resulting in high gross margins due to a lower cost of service.
The result of this are very real network effects: as engagement grows, the community gets smarter, faster to respond, more globally available, and generates more value.

In my opinion, the Facebook VZfit community is a model of what a user community should be. Members post many times daily. It's a bit hard to keep up. They post VZfit Explorer rides that they have created and contribute to the library of more than 200 now available. They post live streams of rides that they are taking in real time, a feature that's unique to the Oculus Quest due to the integration with Facebook. They also post to arrange with other members to ride together in a particular place and time. Members are invariably friendly and helpful.
For example, member Jaana Fogi in the post below shares an idea for a ride she got off Instagram, and explains that she was saved the trouble of creating it herself in VZfit Explorer because another member Rambo57 had the same idea and had already created it.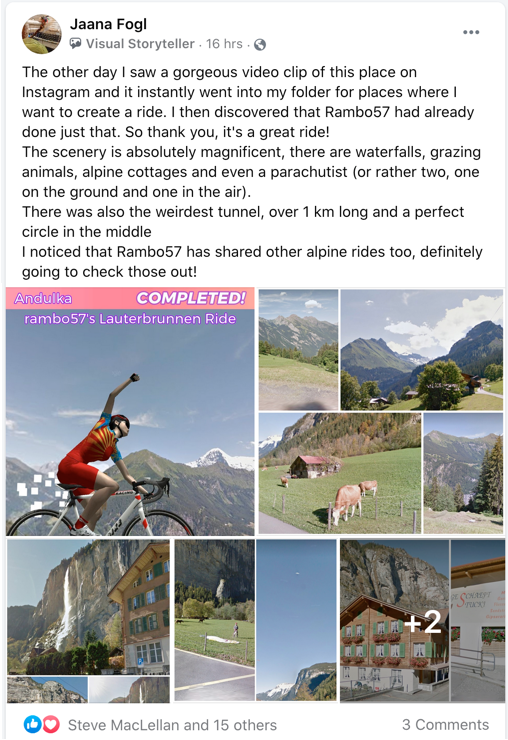 In the pandemic era, the opportunity to ride just about anywhere in VR anytime from the comfort of home is a godsend. The opportunity to ride with others and live chat is even more prized at a time when millions are isolated by travel restrictions and unable to socialize with friends and family. VZfit Explorer makes use of the VOIP capabilities built into the Oculus Quest headset, no additional gear required. You or your fellow rider can separate by 20 miles in our VR worlds during a ride and continue to talk as if you were still riding side by side. In the real world you can be anywhere there's WiFi and Internet access.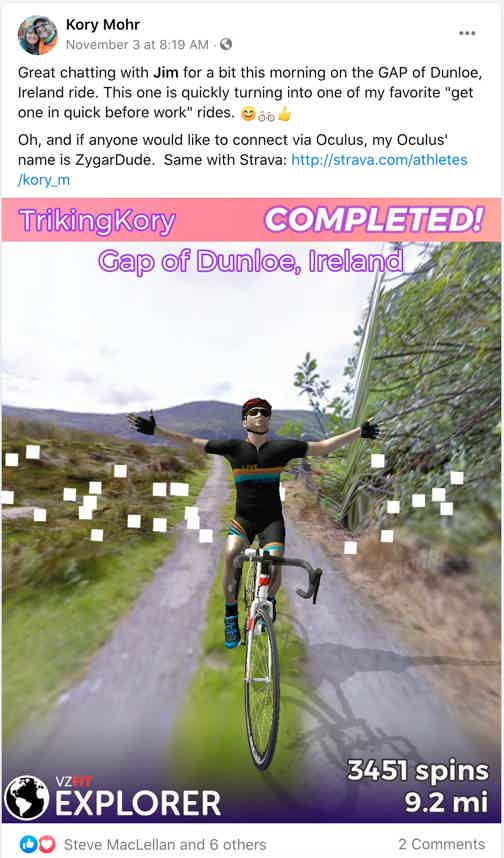 Some members post questions about problems they are having with a ride or other aspects of VZfit. Members help each other out and we chime in with ideas of our own (see point #3 above).
One value of community not mentioned in the HBS article is the way interaction with customers in an active user community can greatly improve a product. We can't think of everything so it's invaluable to have the experiences of hundreds of users to give us fresh ideas for improvements. With all of this customer input, over time the product becomes ever more refined, polished, and feature rich.
Some of our most experienced members like Karen Cusimano below take on rides that are ambitious, to say the least, and expose us to new partnership ideas such as with yes.fit. This USA ride covers 13,669.8 miles. At 100 miles per day that will take 137 days to complete. That's a lot of calories.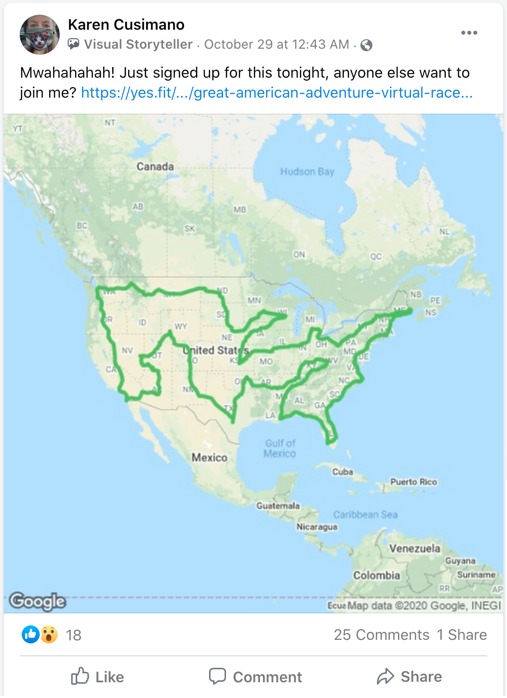 Posts by members like Sean Daniels below help us keep a handle on where we stand with respect to other players in the interactive, online fitness market like Zwift and Peloton. We don't have exact numbers but a fair number of VZfit users have added a sensor, Oculus Quest and VZfit to their Zwift or Peloton rig and use VZfit either in place of or in addition to their Zwift or Peloton routine.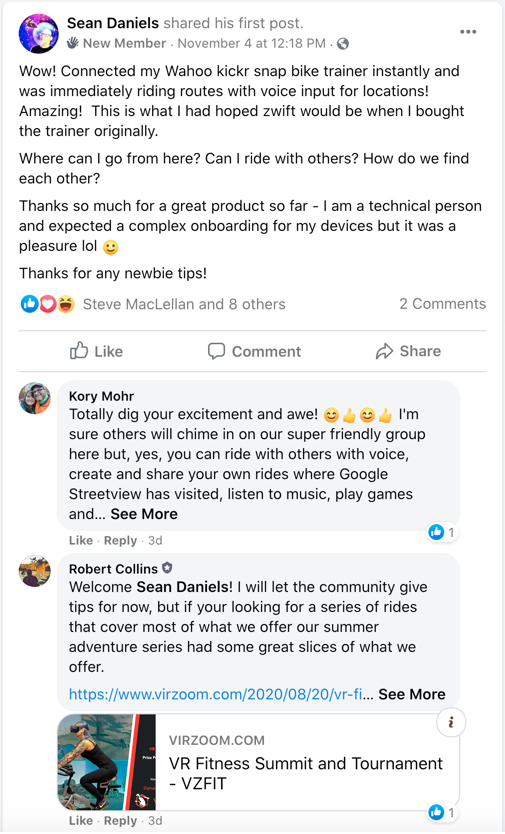 Our Facebook user community has over the past year grown from a few dozen to over 700 members, and has a high a 93% member participation rate. Our nearest competitor's less active member group has 180 members. Responsibility for this standout growth and the friendly, active quality of the group can be credited pretty much entirely to one member of our team, Customer Acquisition and Retention Director Robert Collins. If you scan VZfit community posts it won't take you long to find frequent comments by members calling out Robert for his tireless assistance and responsiveness. Behind Robert is a development team led by my Co-Founder & CTO Eric Malafeew that is equally passionate about listening and being responsive to our customers. That's pretty much what makes us tick.
It's good to know that our large, growing, friendly and active user community is viewed as a critical competitive advantage by institutional investors. The reality is that we don't see our user community as means to an end; we'd take this approach anyway because treating our customers like friends is who we are. We love to hear when our product is helping them. It's what gets us up in the morning. We acknowledge that a competitor that doesn't have a community like ours is going to have a tough time getting into our market, but the credit for that goes largely to our customers themselves who are collectively a kind, energetic, and generous group.
I encourage you to visit our Facebook Group and see our user community in action.