Announcing our new team!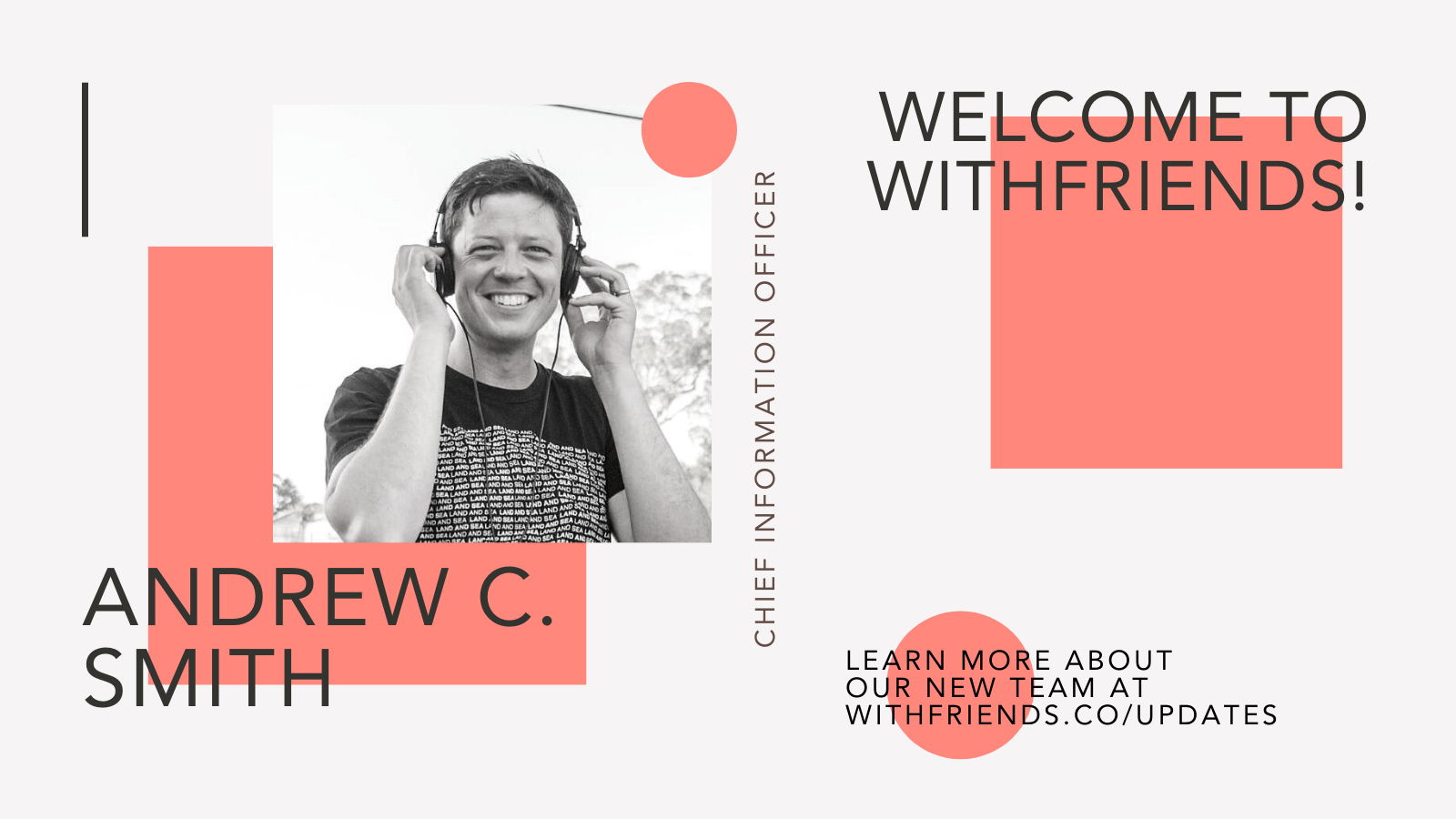 A new chapter for Withfriends began last week.
As Withfriends pivoted this year to help countless retail businesses reinvent themselves during the pandemic by selling memberships, our execution has been constrained by having a single technical cofounder. We work with amazing businesses, and have discovered incredible ways to strengthen the relationship between small businesses and their customers, but we knew we had to figure out how to move much faster.
And now we can!
We are humbled and thrilled to announce the addition of Andrew Smith to our team, as the third co-founder and equal stakeholder alongside Kunal Gupta and Joe Ahearn.
Not only is Andrew a talented engineer, bringing a wealth of technical expertise to our mission, but he has also held a professional career focused on building membership and supporter communities. He brings to the table a vision for placing members at the forefront of the company over the next few months.
In his past work at the Seattle Symphony and at the independent presenting organization Indexical, Andrew's strength was prospect research - identifying who in the community was already engaged, but had the capacity and potential willingness to give more. These are the kinds of insights previously only available to the largest of institutions, but now Withfriends will be able to bake them into a series of upcoming features. Where we previously excelled at turning customers into supporters, we can now help turn those supporters into advocates. Our road map includes making membership profile pages public, easily customized, and individually tailored to each member's behavior. This brings a scale of community development to every business owner, turning the member community into an asset for small businesses.
Andrew also knows a lot about community building on the grassroots level, founding a non-profit presenting organization called Indexical. Focused on radical musical work, Indexical presented over 20 concerts per year in Santa Cruz, building a community of audience members and supporters. He runs his own membership program on Withfriends (feel free to sign up and support their work!), and so adds his insights as a customer to his background in memberships of all scales.
Just as importantly, his determination matched with playfulness will be key in making this new chapter of Withfriends as unique and exciting as the world needs it to be. He coded an automatic speech phoneme parser on nights and weekends called "Infinite Ramble." He built Withfriends a Square integration in only 3 days that's already generating revenue. We're only 7 days into working together and he's already completely revamped our onboarding process with a playful interface for designing memberships for your business, and we're looking to facilitate subscription box benefits next to make the most of the holiday gifting season.
And that's just October! Our holiday season is always slammed, as this is the quarter when retail businesses make almost twice the revenue of any other period.