Our Kickstarter Campaign Launches in 1 Week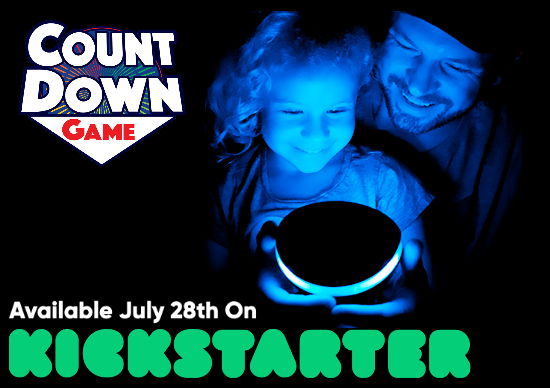 Whew! I'm sure this won't come as a shock to anyone, but it's been a crazy few months since our Wefunder campaign ended in early April. We've been marching forward though and are excited to announce that our Kickstarter campaign for Countdown launches in 1 week, on Tuesday, July 28th.
Countdown has been in very active development over the last few months. Late stage feedback from our manufacturer, reviewers and kid-testers resulted in some changes we weren't planning on. However, those updates have made Countdown into a much better product and we're extremely excited to be on track for a holiday launch.
On July 28th, we're planning special launch day pricing of $24! That's over 40% off our MSRP price. The price will be going steadily up as the Kickstarter campaign goes on, so if you're interested in getting Countdown first, and at the lowest cost, you'll need to be quick!
Help Spread The Word
Please, please share any of our social posts with your network to let them know about our upcoming Kickstarter campaign! Every post really helps lower our marketing costs and makes a much bigger impact!
Facebook: https://www.facebook.com/pressuregamestoys/photos/a.816323038718391/1204571323226892/
Twitter: https://twitter.com/pressuregames/status/1285622347978997762
Instagram: https://www.instagram.com/p/CC6Y2GvB4Ig/
Going Forward
We know we've been quiet on Wefunder. We couldn't be where we are without the support of our investors and followers.
While we recommend following our social channels, know that we'll be posting more updates going forward about Countdown's development status and Pressure Games future in general. As always, if you have any questions, don't hesitate to ever reach out. It's very exciting times for us all!