Quick Friday Update
Dear Shareholders,
Just a quick update for your Friday.
If you pre-ordered Teak Tea at $64.99 and had a Teak Tea account, we have just issued you 3,000 Teak Treats. This is the equivalent of $20 for your next order, so thank you again for your purchase! If you pre-ordered at Teak Tea at $64.99 and haven't made an account yet, please send me an email to hayden@teakteas.com, and I will make sure that you receive your coupon.
As for the production, there is nothing really exciting to update you on, which is, funnily enough, the most exciting thing that can happen. Everything is being shipped to our co-packer and everything appears to be running smoothly!
We will have our test market run of Teak Tea early to mid-June.
We are working on marketing materials for Instagram, Facebook, etc. to start up direct to consumer sales. But we are reserving the $49.99 deal with two Teak Tea hats included for just the investors and their friends and family.
https://teakteas.com/products/teak-tea-vip
Be sure to share YOUR company and get people hyped for YOUR tea!!
To those of you who have invested with my father, Klaus, in the Ben and Jerry's on the Venice Boardwalk, we are able to re-open this weekend. This is happening at a great time because we will be able to feature Teak Tea on the Venice Boardwalk, which gets 14,000,000 annual visitors. This is great (and free!) branding for us.
Finally, here is just a little sneak peek of a little card that comes in the Teak Tea packaging. Just to make our company a little more special.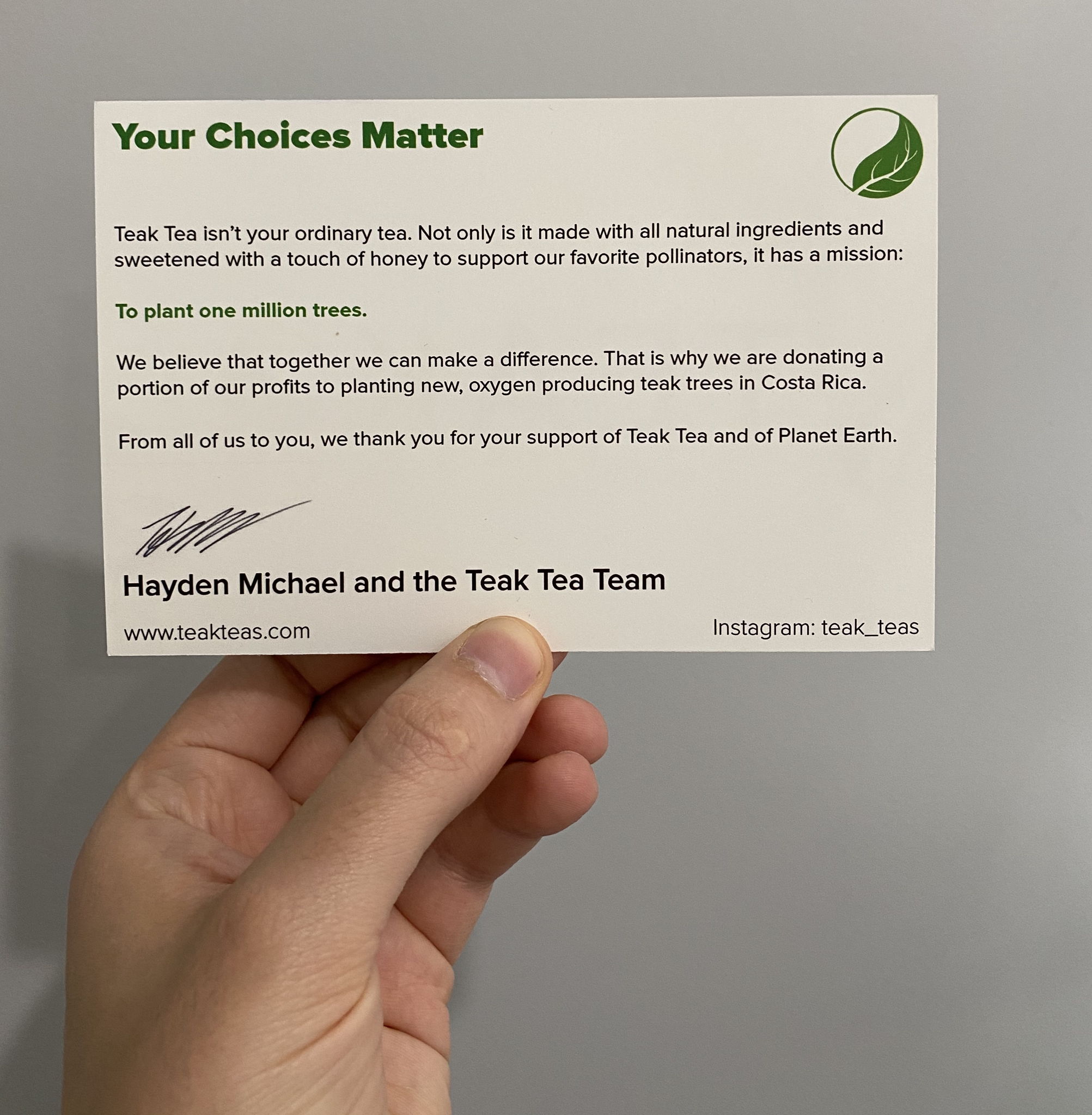 Kindest Regards,
Hayden Michael and the Teak Tea Team