VirZOOM Final Stretch Campaign Update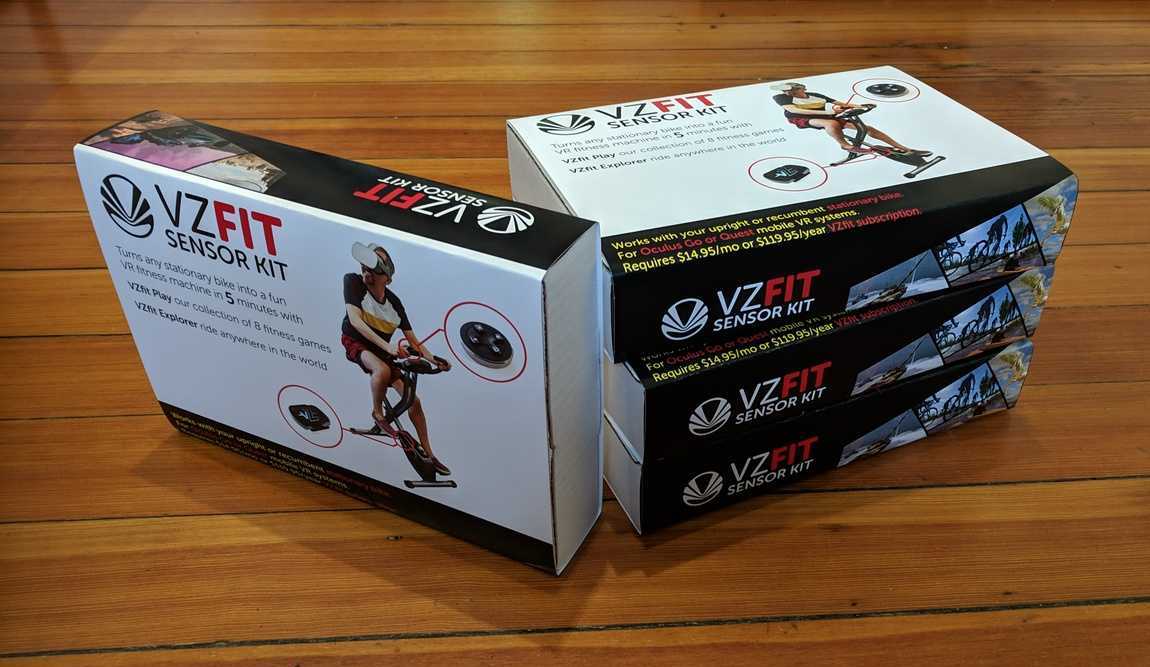 VZfit Sensor Kit boxed and ready for shipment to Decathlon

Hello everyone!

We hope this note finds our valued investors enjoying the arrival of Spring. The VirZOOM team has been very busy with the launch of VZfit Sensor Kit consumer product, along with the apps that go with it, VZfit Play and VZfit Explorer, while continuing also to develop commercial partnerships and engaging steadily with institutional investors, to lay the foundation for a larger raise a little down the road.

In connection with our $500K series seed preferred stock financing that closed in March our Note holders converted outstanding promissory notes into Series Seed Preferred Stock at a $12M post-money valuation and the company raised an additional approximately $500k. We intend to use the proceeds of the financing to finance the new product launch and ongoing operations. We are in the process of raising additional funds via sales of Series Seed Preferred shares to accredited investors in parallel with our WeFunder campaign. (Please note that for regulatory compliance reasons these shares are not available to our WeFunder investors.)

We had planned to extend the WeFunder campaign following the launch of the VZfit Sensor Kit, as with the new products out the door we could give the campaign more of the attention it deserves going forward. However, for regulatory reasons, an extension was not possible. The campaign will close on April 14.

At VirZOOM, we are proud to be building a company that's owned by you all -- an army of supporters, customers, ambassadors and champions. We are grateful for your support, and excited to have you among our VirZOOM community.

We hope that, as investors in our company, you will engage in the growth of VirZOOM as time goes by. We want your input on product decisions and directions. We prize your support on social media and in marketing campaigns. We plan to invite you to trade shows and other events over the course of 2019.

Right now, we believe the best thing you can do to contribute to our success is to help socialize our WeFunder campaign in this final week, to help us reach our target of $250K as quickly as possible in the time available.

There are two ways you can do this:

1) Post your version of the following on Facebook, Twitter and LinkedIn:

"Proud to be an equity investor in VirZOOM, the startup that is revolutionizing fitness bikes by fusing them with VR technology. You, too, can become an angel investor in VirZOOM for as little as $250, by investing in their WeFunder campaign: wefunder.com/VirZOOM"

2) If you know any investors who you think might be interested in investing a larger sum in VirZOOM ($5K and upwards), please feel free to make an email introduction to me personally.

We're grateful for your help! Thank you again for your investment in VirZOOM. We will keep you updated on your investment as we move the company forward over the closing days.

Here is an 8 point summary of our progress since the previous update:

1. VirZOOM enters the VR Fitness Mass Market with VZfit Sensor Kit for Oculus Go and Oculus Quest
On March 12, VirZOOM began shipments of the world's first portable and what we consider affordable VR Fitness solution. The company's revolutionary second generation consumer product, VZfit Sensor Kit, sells for $99.95. Together with ANY stationary bike, VZfit Sensor Kit lets anyone with the $199 Oculus Go (or the soon to be launched $399 Oculus Quest) enjoy VirZOOM's well-reviewed VR Fitness apps by attaching VirZOOM motion and action sensors to the bike in a couple of minutes. VZfit Sensor Kit is portable; use it at home, take it on the road to a hotel fitness center, take it to your gym, and turn any boring stationary bike into a fun VR fitness adventure. If you have a Fitbit you can connect it too for goal setting and tracking.

Oculus is owned by Facebook and Oculus has added many exciting social features to the Oculus Go. You can connect your Oculus Go and Facebook accounts to invite friends to play VZfit games with you and livestream your rides. Here's an example of a 360 video recently created by a VZfit customer and posted to his FB account, that received 30 shares.

2. VirZOOM launches VZfit Explorer app
VZfit Explorer lets anyone with VZfit Sensor Kit and an Oculus Go or Oculus Quest use any bike to ride, in VR, on any street on earth mapped by Google. Choose from a growing list of Recommended Rides, or enter any location. Ride the Tour De France route or the 2020 Olympics road race course up Mt. Fuji. Choose training mode and select from programmed high-intensity interval training workouts led by your personal AI coach, all in your VR experience.

Sample VZfit product launch coverage by Inside Hook.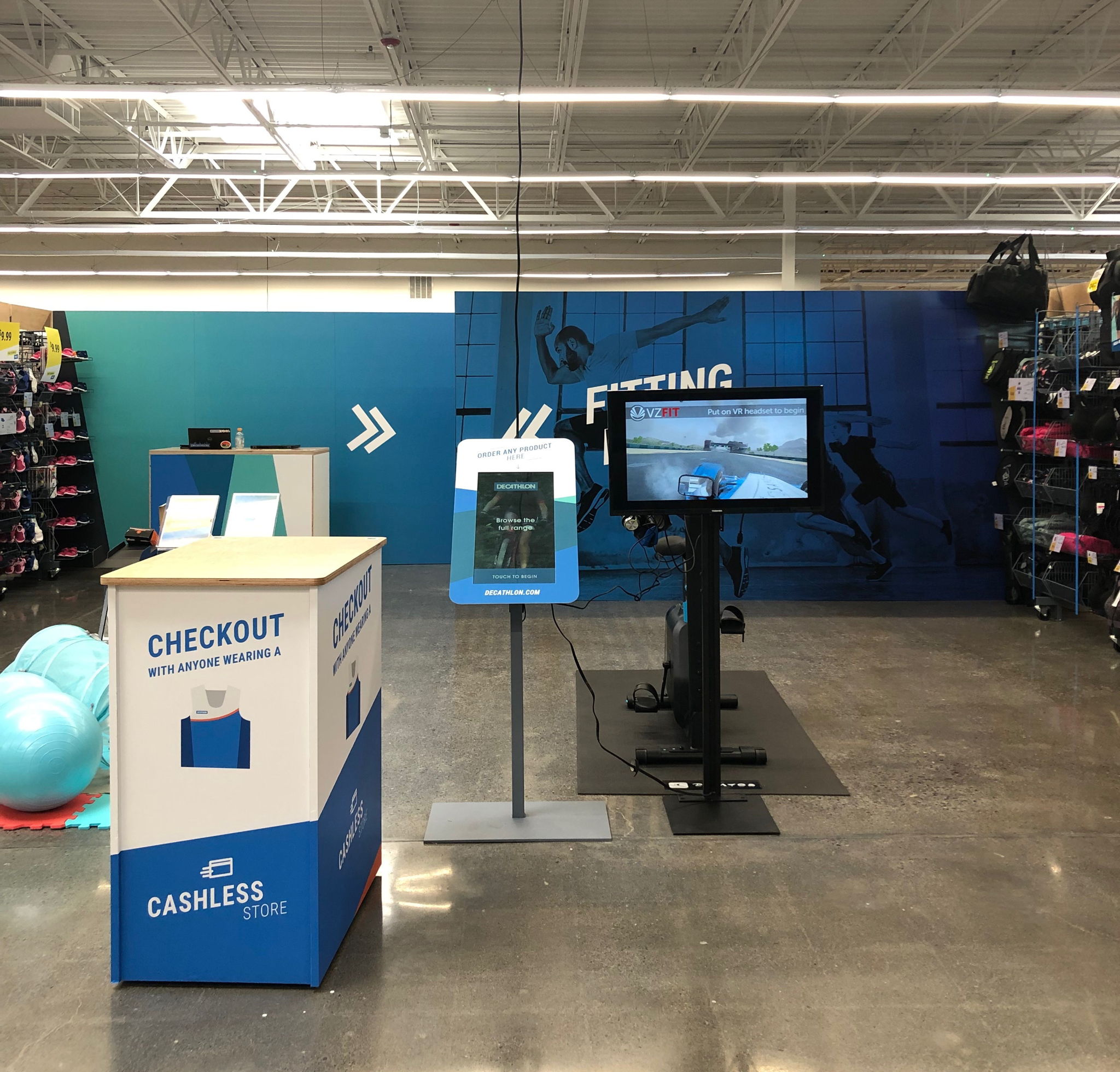 3. VirZOOM Launches retail partnership with Decathlon
Decathlon, the world's largest sporting goods retailer with 1,500 locations in 49 countries, placed an opening order to resell VZfit Sensor Kit with Decathlon branded stationary bikes at the opening of the new Decathlon flagship store in Emeryville, CA on April 12. The ability to ride in the great outdoors in VR with VZfit Explorer is a particularly good fit with Decathlon's outdoor adventure branding. The two companies a look forward to a long and prosperous partnership. Store visitors will demo VZfit on a VZfit Kiosk (the system we make for commercial gyms), and be able to purchase VZfit Sensor Kit at the store. If you live in the area be sure to stop by and check it out.

4. Life Fitness Update
Under the commercial partnership with Life Fitness, new Life Fitness sales offices were added to sell VZfit Kiosk in The Netherlands, Barcelona, and Saudi Arabia, bringing our total Life Fitness sales locations to 11 globally.

5. VirZOOM and Duke University launch VZfit VR Fitness evaluation program
Duke University has entered into an agreement with VirZOOM to evaluate VZfit Kiosk potentially for broad deployment across the university system. Other major educational institutions, including MIT and Bloomberg, have purchased VZfit Kiosk to meet the needs of students and faculty to provide the unique combination of gaming and fitness in college recreation centers.

6. Engagement growth has taken off since launch of the VZfit Sensor Kit last month.
Relative Active Weekly User Engagement and relative number of VZfit Platforms in Use as of April 7, below.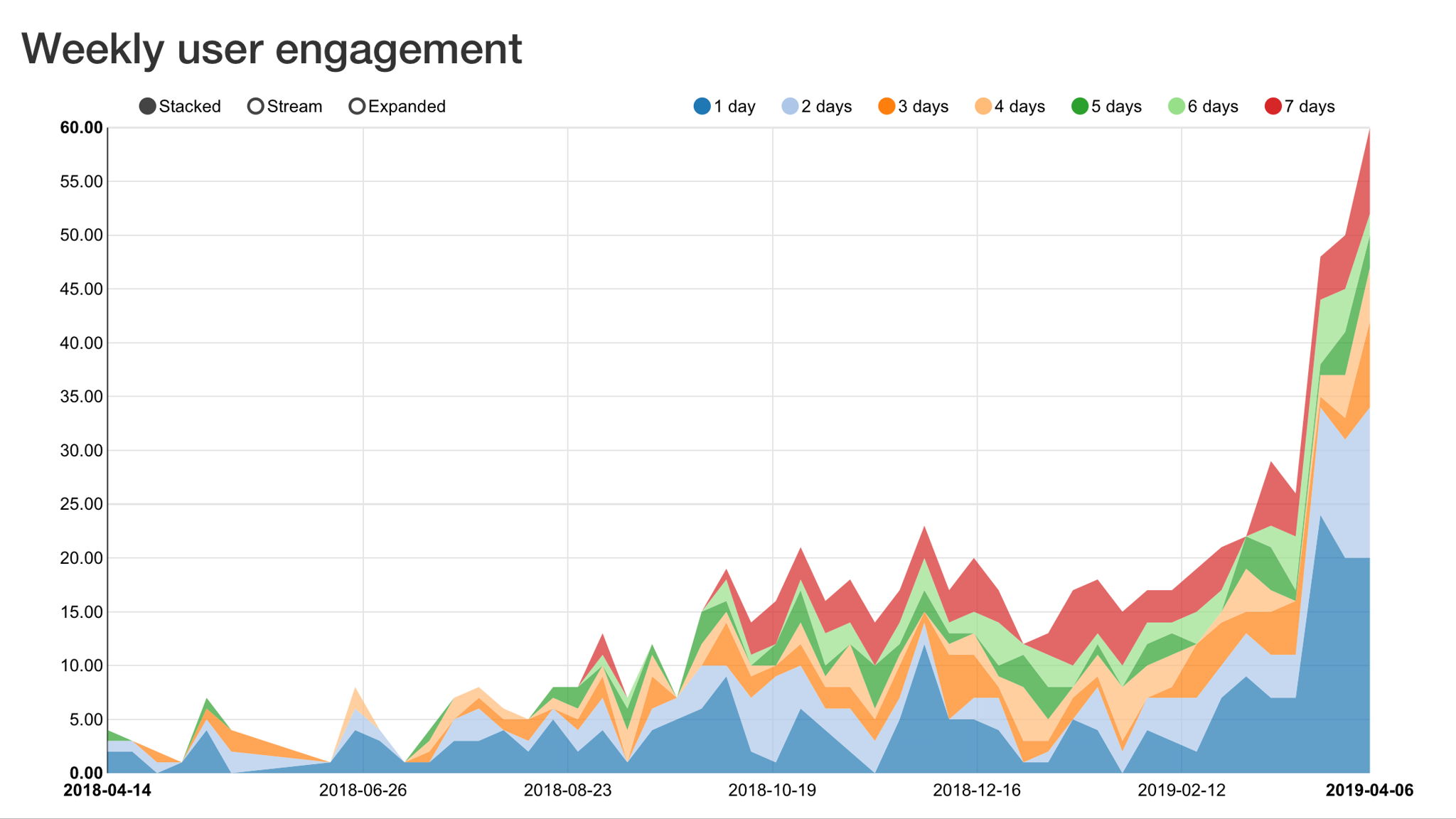 7. Direct sales locations of VZ consumer and commercial product as of March 16, below.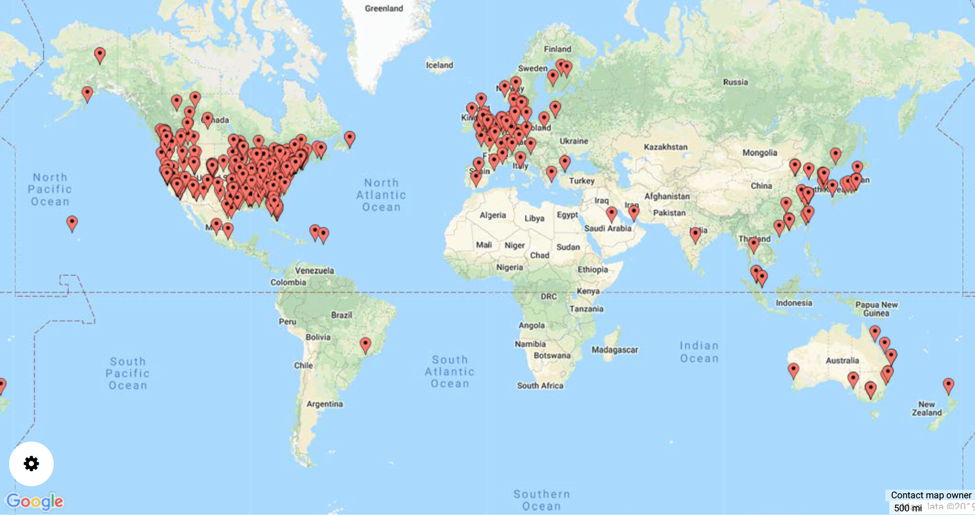 8. April 2019 Global vSports Event individual players leader board as of April 8, below.
Player Nick007 banged out an astonishing 110,305 score and over 36,000 spins since going online with his VZfit April 1. A "spin" is our standard unit if VZfit use, like Fitbit steps. A spin takes approximately one second, and 36,000 spins translates into about 10 hours of use. Fair to say Nick is have fun losing a few pounds!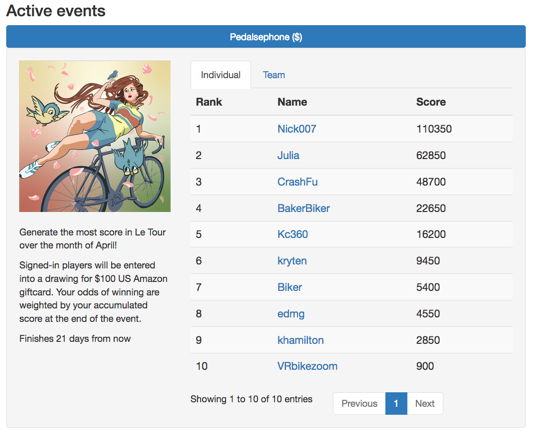 The winner of the Fall Peloton Global vSports Event on the team players leader board was the YMCA in Cupertino, CA. Noting MIT in 2nd place, the San Jose CA YMCA in 3rd, Brunswick Russia in 4th, Life Fitness in Hong Kong 5th, and health club Sports International Mavisehir in Istanbul 6th highlights the international nature of VirZOOM vSports. We like to think that VirZOOM can help bring the world together in VR with this new competitive sport that can be played from any place on earth.