Optimizing Peak Athlete Performance
As a rising professional athlete, Darnell Jones, our founder, wore gardening gloves and ankle weights on his wrist while dribbling to improve his basketball handle. The combination of a slippery palm and added weight resistance pushed his workouts to a different level. Years later, the youth and professional athletes he trained loved the workout so much that Jones and his Co-Founder and wife, Danyel Surrency Jones, decided to create a company that focused on developing products that are used to enhance performance, assist with injury prevention and injury recovery.
Four years later, POWERHANDZ not only sells weighted anti-grip basketball gloves, but nine total products across six sports: basketball, football, baseball, softball, boxing/MMA, and fitness. By selling more than 50k units, we've proven the market for athletes wanting to train with products directly connected to performance and injury recovery + prevention.
Hall of Fame Athletes Use Our Products
We take pride in working with over 40 pro teams, 150+ affiliates across multiple sports, and both the NBA Players Association and NFL Players Association. But we're also very proud that some of the best athletes in the world choose to train with our products. David Ortiz will soon be in the baseball Hall of Fame, Brian Dawkins and Tim Brown are both already in the football Hall of Fame, and Andre Ward is the best American boxer of the last decade. Plus, current superstars Kyrie Irving, Antonio Brown, Isaiah Thomas, Paul George, and dozens of others, plus actors Chadwick Boseman and Chris Harrison, all train with POWERHANDZ.
Our Next Move is Brick + Mortar Retail Stores + Rehabilitation & Technology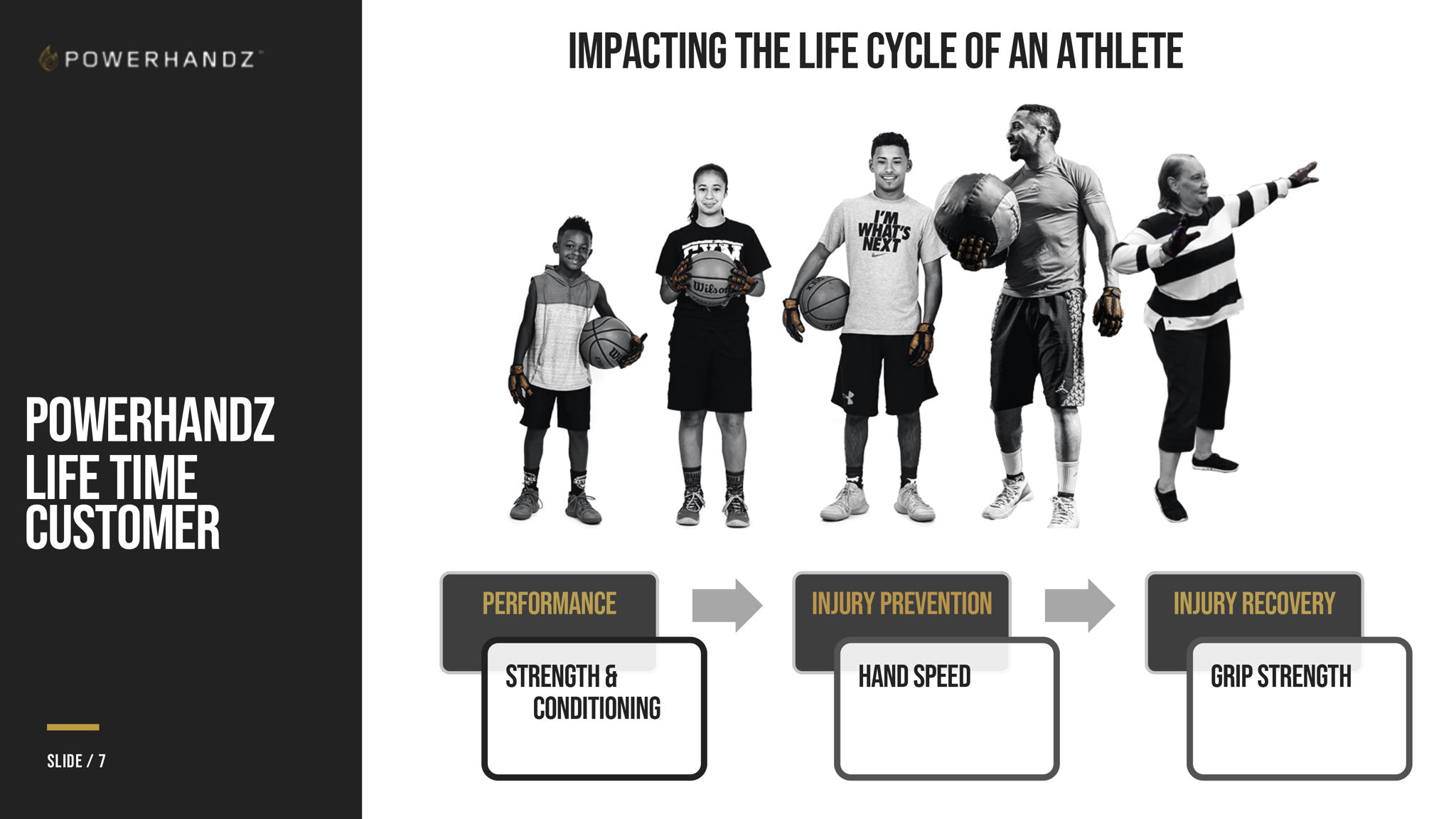 POWERSens Technology
Both of these markets will be integrated with sensor technology that will help athletes track performance and rehabilitation patients measure grip strength.
Let's Train With a Purpose Together
Prospective Investor,
Thank you for your considering an investment with POWERHANDZ. We are absolutely thrilled by our past success but we get chills when we think about our trajectory. The last 4 years have been humbling. We started with one mission, one vision, and one product during our 2014 launch. We are extremely excited by the growth, recognition, and customers who have supported us on this journey since launch day. Now, it's time to escalate our vision.
Before you invest, there are a few things you should know about the POWERHANDZ Team…..
1. We care. The foundation of our business is based on a passion for helping people. Profitability and sustainable growth comes from the desire to expand; ensuring every person who can benefit from POWERHANDZ products knows about them.
2. Excellence is our metric. We will not short-change our customers, investors, and supporters.
3. Creativity and innovation is our playground. We will not stay stagnant. We will be ahead of industry trends or will walk beside them applying more ground-breaking strategies.
4. Our customers mean everything to us. Period.
For the last 4 years, we have only raised a minimal amount of funds to launch our sales and marketing strategies. Based on analyzing our consumers and potential markets for the last 4 years, we're confident that every person young or old, male or female, athlete or gym enthusiast, healthy or injured -- can and will benefit from our products. We have already proven this theory with both youth and professionals in 81 countries who play basketball, football, baseball/softball, boxing, and fitness. In addition, our rehabilitation case studies have indicated that therapists and patients will greatly benefit from applying our new rehabilitation glove sets to normal physical therapy exercise activity. The goal is to reach a shorter recovery time.
As the Founders of POWERHANDZ, we are beyond committed to beat the odds and operate in greatness for our "POWERHANDZ Fam" and our personal legacy. We have the intellect, common sense, vision and ecosystem in place to develop a global profitable business model that is recognized in every household. With your investment and ambassadorship, we have no doubt we will accomplish our mission. Both of us are laser focused and ready to put in the work and make the right strategic moves.
In addition to our role as Co-Founders, we are committed to making an impact through our Power To Give Foundation, which launched in July of 2014 -- -the first day we sold products was the first day we gave back to 80 youth from the Boys and Girls Club of Fort Worth. We decided on day one, that we will contribute a percentage of all our profits to support athletic programs in the community because we both believe in the lifelong values sports play in the community. Both of our parents were divorced and we had single, hard working Mothers who made sure sports raised us and community activities supported the values and discipline that was taught in our homes. Power To Give Foundation (501c3) has a mission to build legacies of service with a commitment to athletic and academic excellence. POWERHANDZ supports its non-profit entity by donating a portion of our net revenue to the foundation.
In closing, we want to personally thank you for your interest in investing in POWERHANDZ. We are available to answer any questions you may have about your investment, our company or ourselves at any time using the comments section below. At POWERHANDZ our mission is to Train with Purpose so know that your investment will also serve a greater purpose by benefitting a vast multitude of people from all walks of life. How many investors can say that? We look forward to hearing from you.
Sincerely,
Darnell Jones and Danyel Surrency Jones