Gamifying Fundraising for Schools and Nonprofits
We uniquely drive community traffic to local merchants by generating automatic donations on each customer transaction. KOHA families will continue to participate because they're earning personal rewards that accrue much faster than traditional small business rewards programs.
Supporting Small Businesses, Schools, and Nonprofits Has Never Been Easier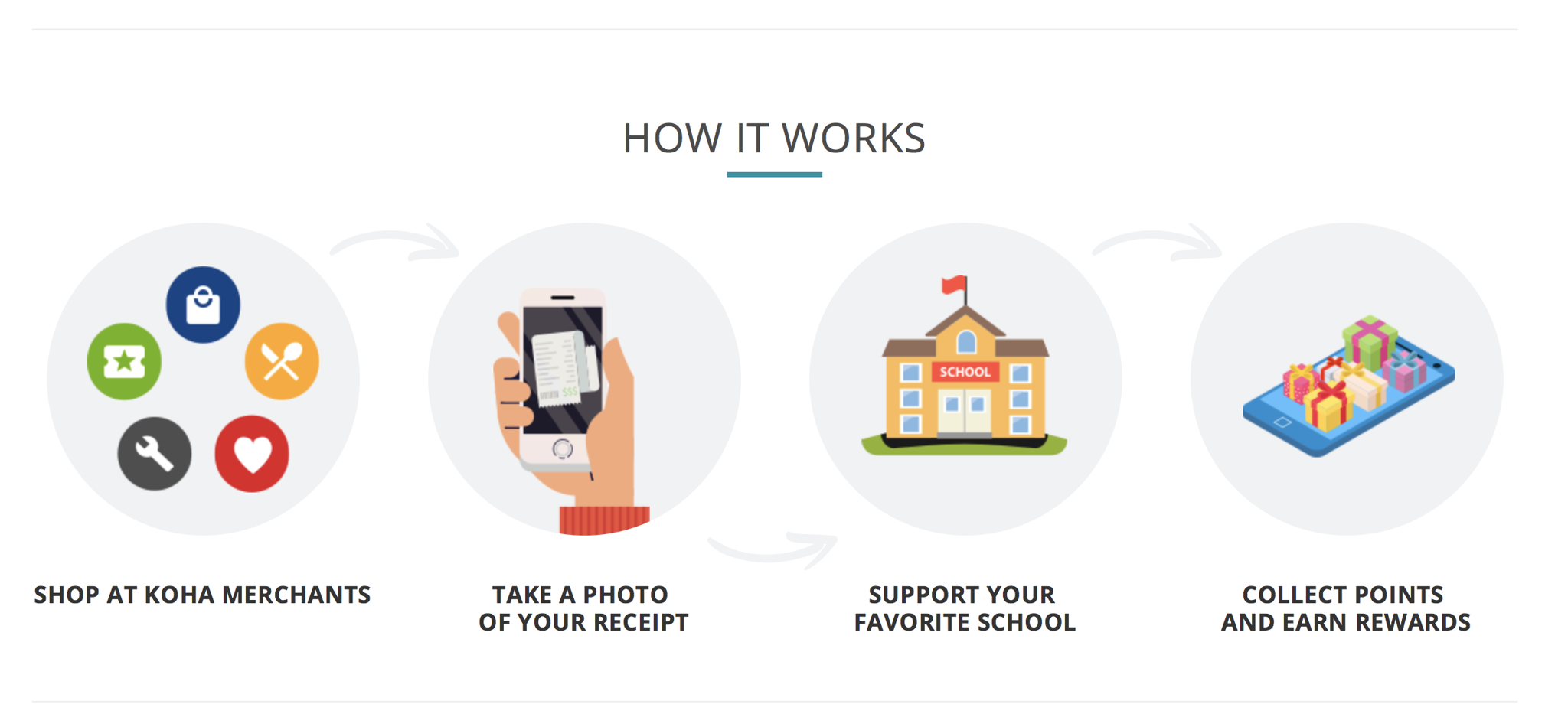 We believe that supporting small businesses, schools, and nonprofits is vital in giving communities life. Not only do these organizations build a community's character, they also strengthen important partnerships among neighbors and residents by offering positive social and economic relationships.

Get to know our KOHA Merchant Partners
Our Progress So Far
September 2014
Serving the Community
Shaun & Janet are board members on a local Education Foundation in charge of fundraising efforts.
February 2015
Developing an Idea
We begin talking about ways to rally local business support to fundraise for the Foundation.
July 2015
Shop & Earn
This original concept was presented to the Foundation as a way to fundraise while shopping local.
March 2016
Building a Team
Shaun & Janet put together a team to develop an app with technology, creative and industry expertise.
July 2016
Name Change
Shop & Earn is renamed to KOHA.
August 2016
Finding Leaders
Kelly Keddington is appointed as KOHA's first CEO.
Alexandra Carlson is appointed as KOHA's CTO.
November 2016
Making It Official
KOHA Is officially incorporated as an LLC.
January 2017
App Development Stage 1
KOHA website and app first round drafts are presented.
July 2017
Soft Launch Market Party
KOHA tests the app concept with local educators, key officials.
August 2017
Changing of the Guard
Janet Alikpala is appointed as KOHA's second CEO.
Kelly Keddington transitions.
September 2017
Merchants Come On Board
KOHA begins cultivating local businesses to the app platform.
November 2017
App Development Stage 2
KOHA goes live in Beta mode for internal test.
January 2018
We're Live!
KOHA goes live to a Western Suburb of Chicago, Downers Grove, IL.
Let's Build Communities Together
Dear Investors,
Our mission is to support sustainability for small business and the communities they serve. Our passion is rooted in the meaning of KOHA, a reciprocal and mutually-beneficial relationship. Our team has shown resilience, focus, and tenacity in building a social impact company that helps local businesses become more accessible and appreciated by their communities. Our vision of a reciprocal system that makes it easy and rewarding to support local small businesses and profitable for those businesses to give back to the community, has become a reality. Through years of sacrifice and hard work, we're achieving our primary objective, to make it profitable for small business to support local 5013Cs. KOHA's fully functional and proprietary (patent pending) technology was built for scale.
We have an app that is capable of scaling to more neighborhoods and towns, with opportunities to profit from multiple industries that participate. KOHA isn't limited to restaurants and shops. We allow entrepreneurs in any industry the opportunity to join the KOHA program, creating a robust small business community as well as plenty of options for users to regularly utilize our system. The KOHA brand is growing in our target markets. We're building a community that is passionate about local businesses, schools, and nonprofits coexisting in a mutually beneficial way. Our goal is to create a true community of giving.
Make no mistake about it, developing an app and getting users to adopt the technology is challenging. There are a number of moving parts that must be managed in a delicate balancing act. However, with our passionate team and support from community members, schools, nonprofits, and our merchant partners, we've been able to manage these parts and hope to continue as KOHA grows. We've worked tirelessly to establish a lean and scalable process capable of delivering profitable results. We are currently piloting our app and are ready to really push the accelerator at KOHA, but we need the capital to do it.
We've got the right team in place at the right time to take KOHA to a new level. In keeping with the KOHA philosophy, we hold ourselves to a high standard in all that we do, every day. We take our role as stewards of your investment very seriously. We've been lucky to have the support of a wonderful, encouraging, and growing group of people that want to see KOHA succeed. Now, we're proud to give them and newcomers to KOHA a chance to invest and join us on this journey. KOHA has been a grassroots effort from the start, driven by the passionate connection our community has with KOHA and the excitement they get from supporting local business while helping and giving to their favorite school or nonprofit. With your investment, we can scale KOHA to sustainable profitability and continued growth. Your investment is an opportunity to support the "little guys" and give them the same type of technology traditionally only for big business.
What brought us together was the belief that we can do and build something exceptional. Join us now and help us bring KOHA to communities that want to support their local businesses, schools and nonprofits in a more sustainable way.

Shaun, Alexandra & Janet